June 10th 2019
Big Bang North West 2019: ScottishPower return as Sensational Show Stage sponsor!
Fantastic news! Since 2016, ScottishPower have made a 'big bang' of their own as our Sensational Show Stage sponsor and we are overjoyed to announce that they are returning for their fourth year!
This awe-inspiring performance space is one of the highlights for our event attendees as they can witness phenomenal fire demonstrations, terrific tech, amazing animals and STEM-sational science!
We can't thank ScottishPower enough for their ongoing support. Just look, it's standing room only at every show!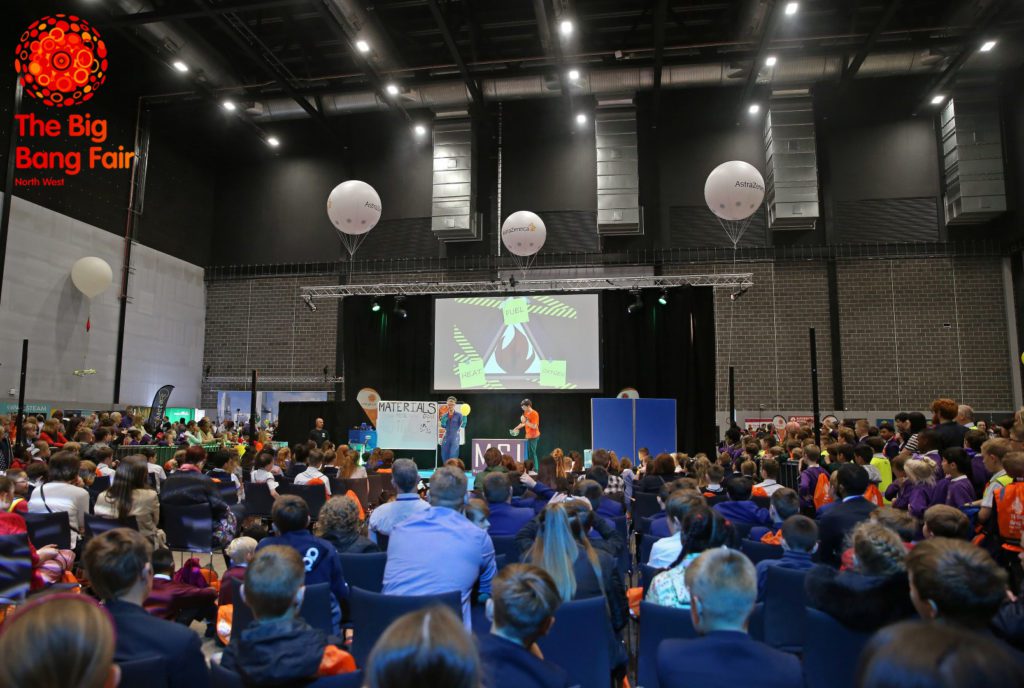 Performing at The Big Bang North West 2019 are…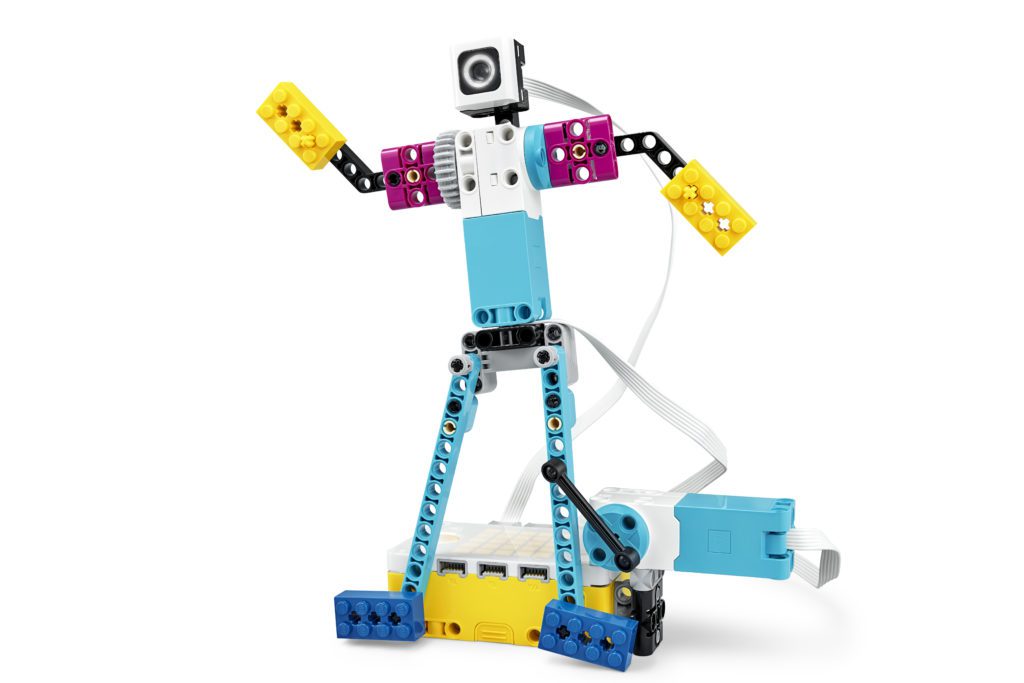 WOW! This will be one of the first times SPIKE Prime has been seen in the UK!
Enjoy an interactive experience with brand new resource, LEGO Education SPIKE Prime! SPIKE Prime continuously engages pupils through playful learning to think critically and solve complex problems, regardless of their learning level. From easy-entry projects to limitless creative design possibilities, SPIKE Prime helps pupils learn the essential STEAM and 21st century skills needed to become the innovative minds of tomorrow – while having fun.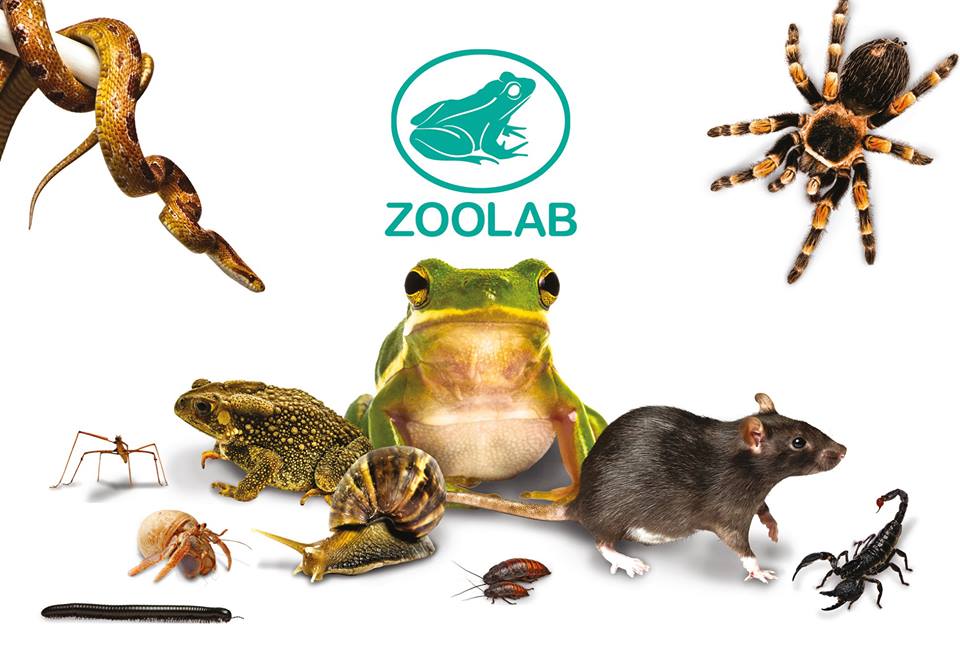 Get up close and hands on with exotic animals as we talk all about Biomimicry. This encounter sessions allows you to meet the likes of Snakes, Lizards and Tarantulas and other critter as we learn all about how their amazing abilities and designs have influenced new science, engineering and technology.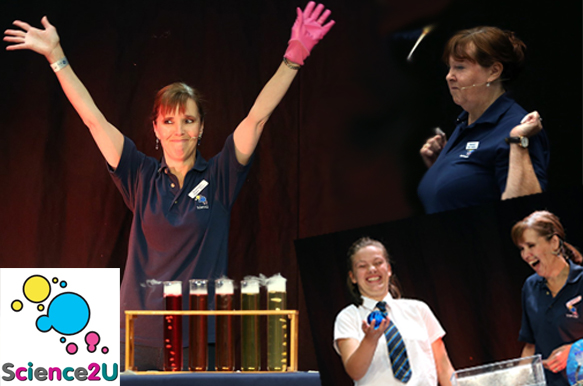 Science 2 U – I Wasn't Expecting That!
A show packed with OMG moments including 'shake to wake-up' science, giant rainbow test tubes, invisible gel balls, giant freaky hands, tons of dry ice, a WOW whoosh bottle and INCREDIBLE fire clouds!
There will be plenty of opportunity to volunteer for this show & tons of ideas for at-home science too!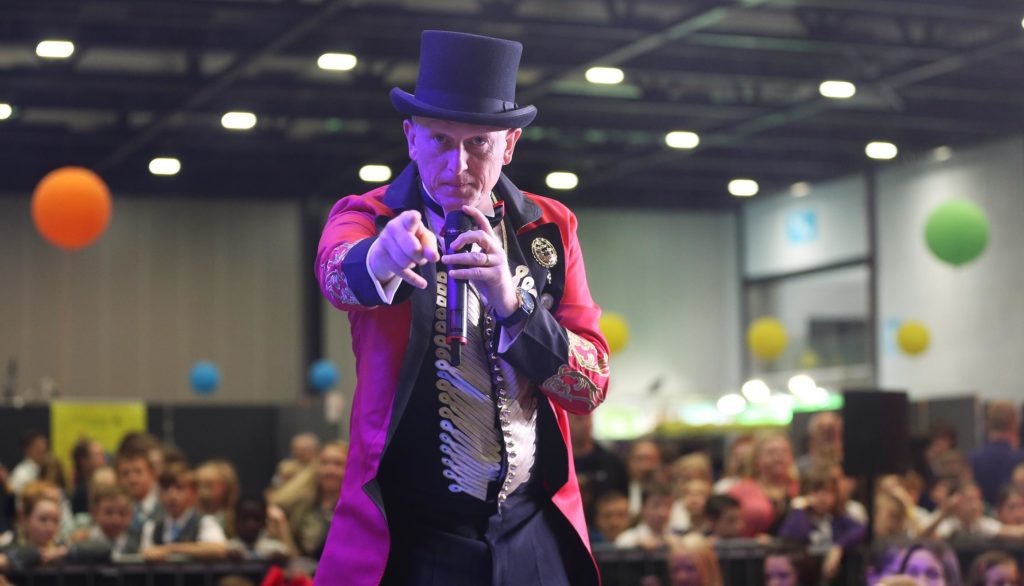 Compère – The Digital Ringmaster!
Looking for a celebration of education & innovation?
Be entertained by the Digital Ringmaster!
Visit the ScottishPower Show Stage to catch all of Andy Kent's antics.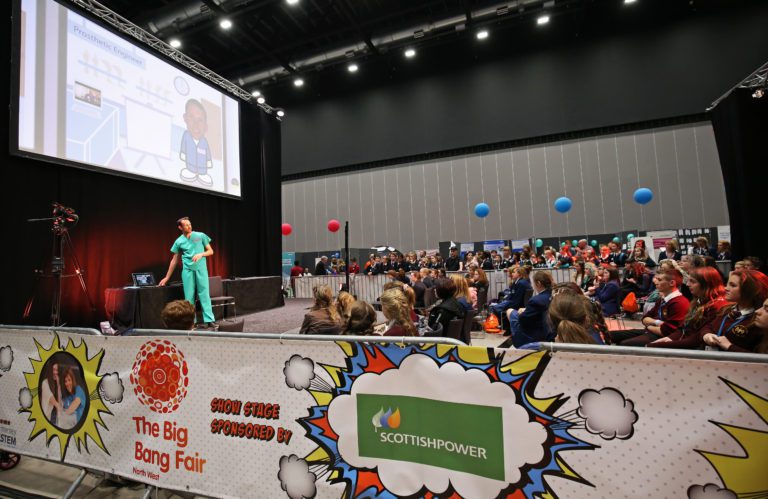 Mairi Elder, Early Careers Manager, ScottishPower says; "We are delighted to be a returning for the fourth year as sponsor for the Show Stage at Big Bang North West, an event which plays a vital role in inspiring young people to become the engineers and scientists we will need to address the future challenges faced by the energy sector".
In addition to their sensational Show Stage, ScottishPower are proud sponsors of our Bright Spark Award as part of The Big Bang UK Young Scientists & Engineers Competition at The Big Bang North West.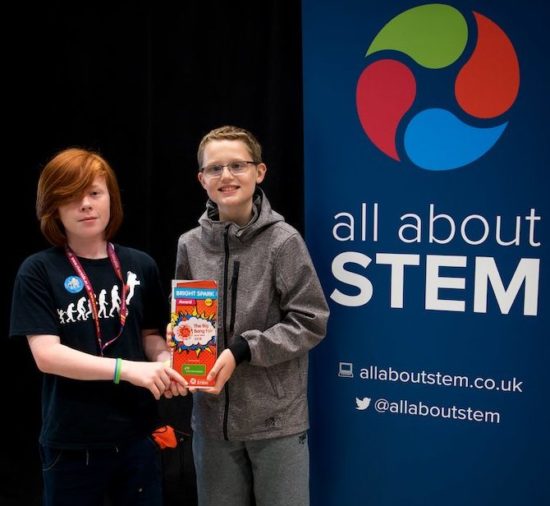 And there's still more! ScottishPower will also be exhibiting this year with a stand packed with exciting and interactive activities:
"Fascinated by the elements? You certainly will be!
'What's Behind the Socket?' is an innovative hands on exhibit which will take you on an animated journey of electricity. Use Energy Sticks to create a human electricity circuit with your friends, learn about conductors and insulators and the world of electricity at ScottishPower."
We can't wait! The Big Bang North West 2019 is going to be our BIGGEST & best event to date!
We're sorry, due to popular demand BBNW is now FULLY BOOKED but we are still open for Big Bang UK competition entrants.
ScottishPower are currently accepting applications for their Apprenticeship Programmes:

– Craft Apprenticeship Programme
– Power Engineering Apprenticeship
– Engineering Foundation Programme
Visit the ScottishPower website…
The Big Bang North West 2019: FULLY BOOKED!
Big Bang North West: New Headline Sponsor – Unilever!
Enter The Big Bang UK Young Scientists & Engineers Competition
Metro Mayor Opens Big Bang Competition Awards Ceremony 2018
The Big Bang North West 2018: Your AMAZING Feedback!
The Big Bang North West 2018: Official Gallery
Follow All About STEM on Twitter here
Like All About STEM on Facebook
Follow The Big Bang North West on Twitter here
Like The Big Bang North West on Facebook
« Back To News