March 04th 2020
World Book Day: STEMsational Books!
Let's celebrate World Book Day with some super STEM & STEAM books!
Fill your children's shelves with fun science, technology, engineering and maths…
Little People, BIG DREAMS: Women in Science
Meet three inspirational women from the world of science: Ada Lovelace, Amelia Earhart and Marie Curie! This boxed gift set of three hardback books from the internationally bestselling Little People, BIG DREAMS series introduces little dreamers to the lives of these incredible women who worked in the field of science… and changed the world.
STEM Activity Book Collection – The Book People – £5.99
STEM has become a very important concept for children to study and learn from while they're at school. This collection of four books covers each subject and is packed with activities to help children learn in a fun and interactive fashion.
From how pumps and hinges work to the differences between renewable and non-renewable energy, these books are packed with clear and easy-to-understand facts. There are also practical, hands-on activities to help children learn about the likes of coding and motors.
Suitable for children aged 7 and over, these books are sure to inspire them to learn and discover more about the world around them and even perhaps inspire them to come up with their own inventions.
The Essential Guide to STEAM – Making an Art out of Science!
Art meets science in this bright and colourful guide to key STEAM topics. From the types of energy on our planet or the physics behind sound waves to creative thinking and groundbreaking technology, the basic principles in this book will spark a lifelong passion for STEAM.
Coding for Beginners – Amazon Listing
If you're starting to code, take a look at this list of handy beginner guides.
101 Great Science Experiments – DK – £7.99
101 Great Science Experiments is bursting with fun experiments for you to try out at home revealing the secrets of science through practical and exciting projects. Find out how to use everyday objects to discover the principles of science. With 101 science experiments for kids inside covering topics such as colour, magnets, senses, electricity and much more!
Can you feel the force? – DK – Richard Hammond – £8.99
A totally cool look at physics with Brainiac's Richard Hammond!
This title helps you join a thrilling high-energy journey through time, space and beyond and find out about the physical forces that make our world what it is. Here, find out how science affects everything, from roller-coasters to fighter pilots. The book is crammed with fascinating physics facts and interactive experiments. It has a totally cool look at physics!
Robotics for Young Children
Many early childhood professionals are unfamiliar with computer science, robotics, and engineering concepts. This user-friendly and accessible book gives teachers great ideas for engaging young children with 100 exciting, hands-on computer science and engineering activities.
My STEM Day – Subject Books
A series of four books packed STEM day activities focusing on science, technology, engineering and maths.
Mathmagicians! – Amazon – Johnny Ball – £8.99
Join Johnny Ball as he shows your child that maths isn't just numbers and sums, it's a fundamental, incredible, magical way to find out how everything works.
From Pi, the amazing number that's vital for so much of everyday life, to perfect proportions – did you know Leonardo da Vinci worked out a person's ear is one-third the length of their face? – discover how numbers, from ancient times to the modern day, have enabled us to explore, build and discover just about everything.
With puzzles to solve, conundrums to crack and incredible tricks to show to friends, Johnny Ball will teach your child to become a mathmagician!

World Book Day 2020: Resources & Ideas
Find more books here… and here!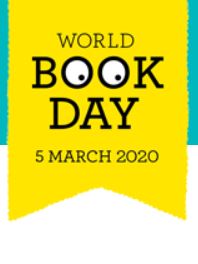 About World Book Day
World Book Day is a registered charity on a mission to give every child and young person a book of their own. It's also a celebration of authors, illustrators, books and (most importantly) it's a celebration of reading.

FULLY BOOKED: The Big Bang North West 2020!
Big Bang North West 2020: Headline Sponsor – Unilever
Enter the Big Bang UK Young Scientists & Engineers Competition!

Look back: Big Bang North West 2019 – 8000 Children Celebrate STEM!
Look back: Big Bang North West 2019 – Your Fantastic Feedback
Look back: Big Bang North West 2019 – The Movie
Follow All About STEM on Twitter here
Like All About STEM on Facebook
Follow The Big Bang North West on Twitter here
Like The Big Bang North West on Facebook
« Back To News