October 22nd 2020
Amazing Apprenticeships: Guess the employer quiz!
Amazing Apprenticeships have two fun employer quizzes available for students interested in apprenticeships.
The guess the employer quiz is a great way to learn about companies who offer apprenticeships and discover the incentives employers offer, payscales, career pathways and more!
The employer logo quiz can be used to accompany this as all of the logos featured represent companies that offer apprenticeships.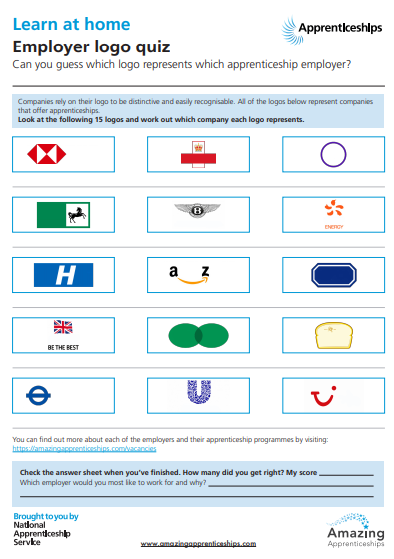 More fantastic resources from Amazing Apprenticeships!
ASK About Apprenticeships: Parent Packs
Apprenticeships: Blended ASK Support for 2020-2021
Apprenticeships: School Support in Cheshire, Warrington, Knowsley & Wirral

All About STEM has been delivering the (ASK) Apprenticeship Support and Knowledge for Schools and Colleges project since March 2017. The project is commissioned by the National Apprenticeship Service to ensure that all young people are fully informed about the brilliant opportunities that apprenticeships offer.
Follow All About STEM on Twitter here
North Region ASK
Amazing Apprenticeships
Careers: Follow All About Futures on Twitter here
« Back To News