January 22nd 2021
CREST CPD & Funding: Hold a Discovery Day!
Is your school looking to get ahead in STEM?
Hold a Discovery Day and make a difference!
A Discovery Day is a chance for young people aged 10-14 to learn about hands-on science, technology, engineering and maths (STEM) projects. It's a fantastic opportunity for primary and secondary students to apply an open-ended, student-led and project-based learning approach with real-world context to their STEM projects. Some students can even earn a CREST Bronze Award!
How can teachers take part?

Teachers from eligible schools will take part in Teachers' CPD training and online training on how to run a Discovery Day. Teacher training is aimed to be delivered by the end of March 2021 and the Discovery Days to be run by the end of the 2020-2021 academic year.

Teacher CPD training and Discovery Day remote support includes:
Delivery of teacher CPD training on STEM projects work with CREST and the entry requirements for the Discovery Day
Remote support on how to deliver our five-hour-long 'Machines of the Future' Discovery Day activity for a whole year group (or approximately 100 students).
Optional in-school support from delivery partners to run the Discovery Day.
Is our school eligible?
State-funded schools in England, Scotland, Wales and Northern Ireland can take part!
The criteria for schools that are eligible to participate are:
– over 30% of pupils eligible for the pupil premium or equivalent
– over 30%* of pupils from ethnic minority backgrounds; and/or
– a small school based in a remote or rural location**
What's in it for our school?
For the project, schools will be asked to print and provide resources.

Your school will receive:
1 – A voucher code to cover the cost of the Discovery Awards as well as a smaller number of CREST Bronze Awards for students who continue at this level.
2 – A small grant for materials.
This is too good an opportunity to miss.
Get in touch FAST – places are limited!
Michelle will also be hosting the training sessions and follow-up support!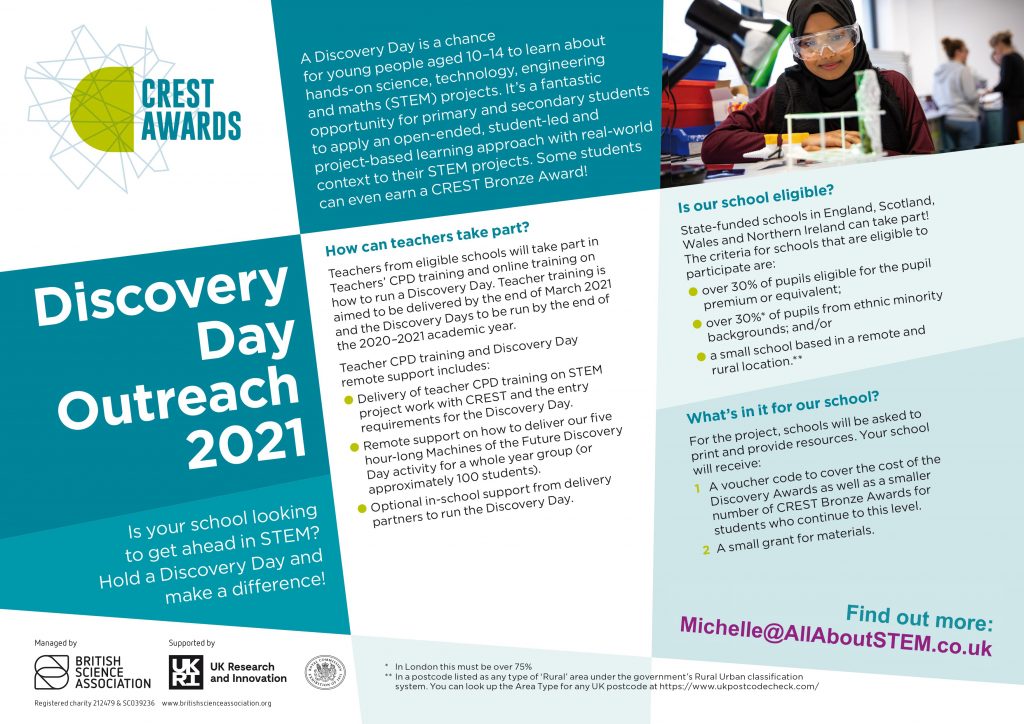 « Back To News