January 26th 2021
Inspiration Station: National Apprenticeship Week Resources
We can't wait to celebrate, National Apprenticeship Week 2021 will take place from the 8th to the 14th of February. Here's everything you need to know to get involved & a full collection of our recommended resources!
National Apprenticeship Week is an annual week-long celebration of apprenticeships.
"Build the Future" is the theme for NAW2021, aiming to encourage everyone to consider how apprenticeships help individuals to build the skills and knowledge required for a rewarding career.
Schools, colleges, individuals, employers, training providers and communities are being encouraged to get involved and celebrate apprenticeships via the National Apprenticeship Week Toolkit.
Share your projects, plans, events, activities, inspiration & experiences using @Apprenticeships #NAW2021 #BuildTheFuture
Tuesday 9th – #AskAnEmployer
Aspiring apprentices, staff and parents can post questions to employers on Twitter from 12 noon to 2pm using #AskAnEmployer.
Further information >
Wednesday 10th – #AskAnApprentice
Aspiring apprentices, staff, parents and employers can post questions to apprentices on Twitter from 12 noon to 2pm using #AskAnApprentice.
Further information >
More National Apprenticeship Week – Support & Resources:
National Apprenticeship Week Video: What is an apprenticeship?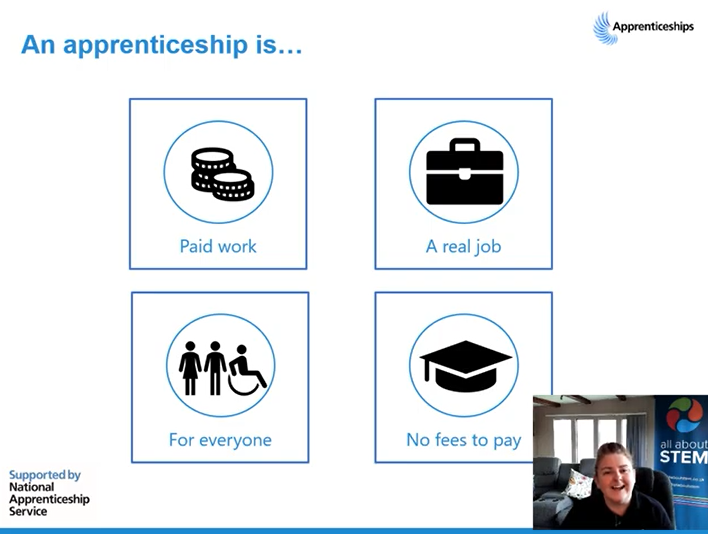 If you're looking for a student assembly or information video that is perfect for National Apprenticeship Week then look no further!
In this video, students can discover the benefits of applying for an apprenticeship including study and wages, the type of companies offering apprenticeships and how to find available apprenticeships. There's also a fantastic list of links so learners and parents can find out more at the end!

Request your video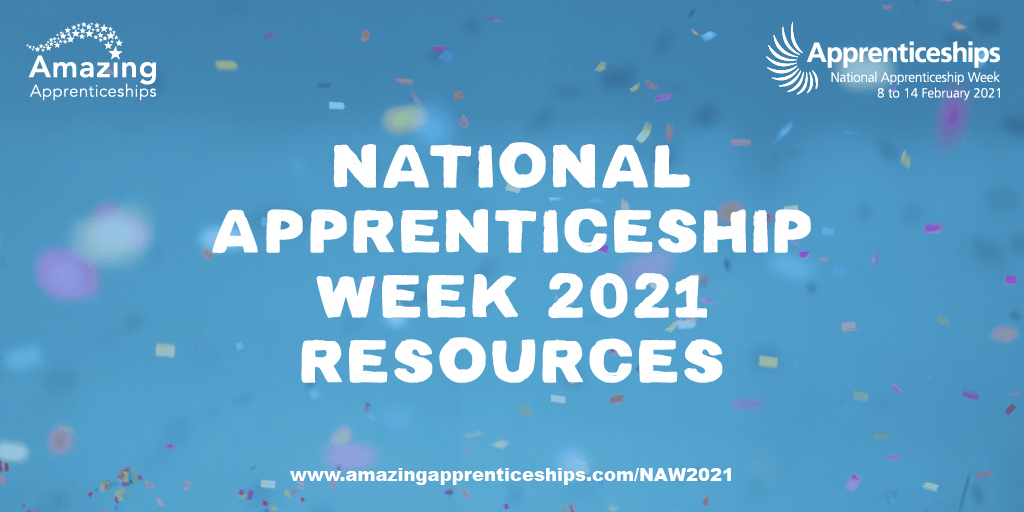 Amazing Apprenticeships: National Apprenticeships Week Bundle

NAW2021 – Complete Resource Bundle
NAW2021 – 1 Page Summary (for teachers and careers staff)
NAW2021 – Apprenticeship Student Activity Pack
NAW2021 – Apprenticeship Activity Pack Teacher Answer Booklet
NAW2021 – Subject Poster Bundle
NAW2021 – Subject Snapshot Bundle
NAW2021 – 8 Virtual Activity Ideas
NAW2021 – Colouring Sheet
NAW2021 – A-Z of Apprentices Case Study Film
NAW2021 – Which Apprenticeship am I? Quiz
Traineeship Activity Pack
Video – 2021: Key messages about apprenticeships
Watch more My Choices videos from the Liverpool City Region Careers Hub.

ASK: Apprenticeship Support for Schools & Colleges
The latest ASK brochure contains the full range of digital support available along with valuable links to numerous resources. ASK support includes apprenticeships, traineeships and T Levels. You can also request Recorded or Interactive Virtual Workshops & bespoke support (Yrs. 10-13).
Get ahead with your planning, take a look at the brochure and book online today – it's FREE for your school. There are so many options that are perfect for National Apprenticeship Week!

Host your own Online School Careers Event!
In this online session we will spotlight resources that you can put together to make your own bespoke in-school careers event.
With so much online content available, this session will highlight where to go for support and resources that are relevant to us in the Liverpool City Region.

The Big Assembly – 9th February
The Big Assembly is an interactive live digital broadcast that enables students and teachers to engage in conversation about exciting career opportunities, national events, and more.
Taking place during National Apprenticeship Week, the live broadcast is approximately 25 minutes long with a mix of short inspirational films and interactive live discussion. Don't forget to prepare your questions as there'll be a chat facility on the day.

The National Apprenticeship Show (Online)
The National Apprenticeship Show brings together employers, colleges and providers with those wanting to find out more about what apprenticeships can offer. Team All About STEM will be answering questions too!

Register here

Careers & Enterprise Company
Work It Videos

This series of career talks are from young people to young people, with a focus on transitioning from education to work. All clips cover a range of sectors, ages (19-25), experiences and transition points.

Request a STEM Ambassador!

STEM ambassadors are volunteers with STEM careers and backgrounds, who give their time to help show young people where the study of STEM subjects could take them. They help put the school curriculum into a real-world context, showing the practical application of the subjects studied in school. They help to excite young people about the possibilities of STEM for their own lives and the world in which they live.
STEM ambassadors are offering remote activities, Q&As and talks.
Apprenticeship myth-busting with JP Morgan
Watch more My Choices videos from the Liverpool City Region Careers Hub.

National Careers Service

The National Careers Service is taking part in NAW2021 too!
Students can call them for an informal chat on 0800 100 900

Nuffield Research Placements – Year 12
Year 12 students completing a Nuffield Research Placement gain skills & experience from working alongside industry experts.
A Nuffield Research Placement is the perfect way to gain confidence before entering the world of work or applying for an apprenticeship and students can also apply for a Gold CREST Award – all fantastic additions to any CV or application! Teachers can find out more here.
National Apprenticeship Week – Online Events & Daily Focus: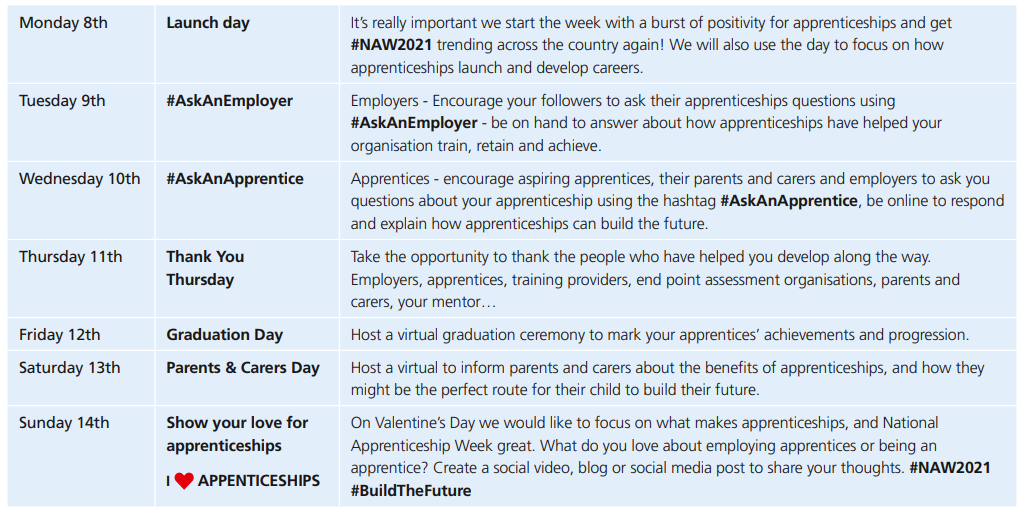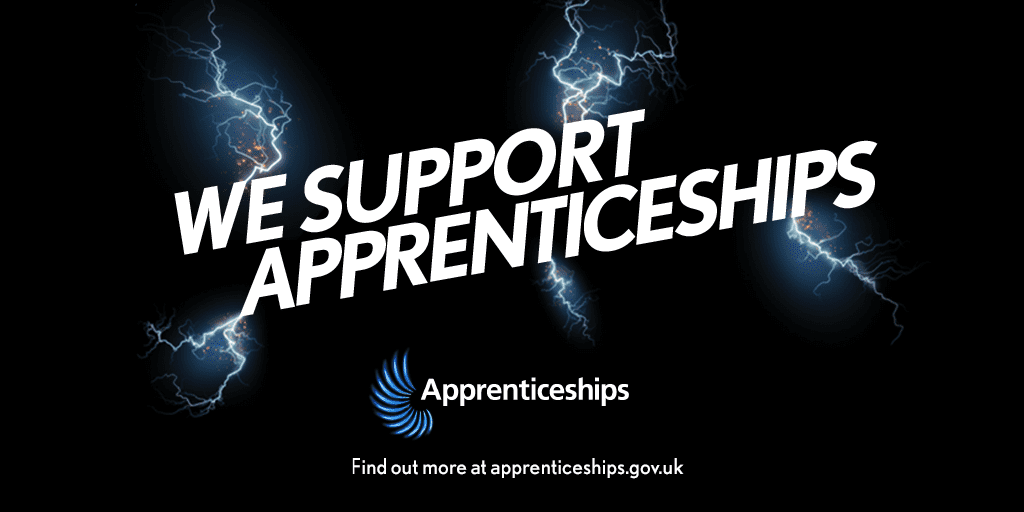 Visit the Apprenticeships website
Amazing Apprenticeships
#NAW2021
Be More: Real Stories from Real Apprentices
More All About STEM Inspiration Stations
All About STEM: News & Resources

All About STEM has been delivering the (ASK) Apprenticeship Support and Knowledge for Schools and Colleges project since March 2017. The project is commissioned by the National Apprenticeship Service to ensure that all young people are fully informed about the brilliant opportunities that apprenticeships offer.
Follow All About STEM on Twitter here
Careers: Follow All About Futures on Twitter here
North Region ASK
Amazing Apprenticeships
« Back To News