February 08th 2021
National Apprenticeship Week Video: What is an apprenticeship?
If you're looking for a student assembly or information video that is perfect for National Apprenticeship Week then look no further!
All About STEM's Managing Director, Michelle Dow has created a 15-minute introduction to apprenticeships and your school can see it first!

(This is not about STEM apprenticeships but ALL amazing apprenticeships!)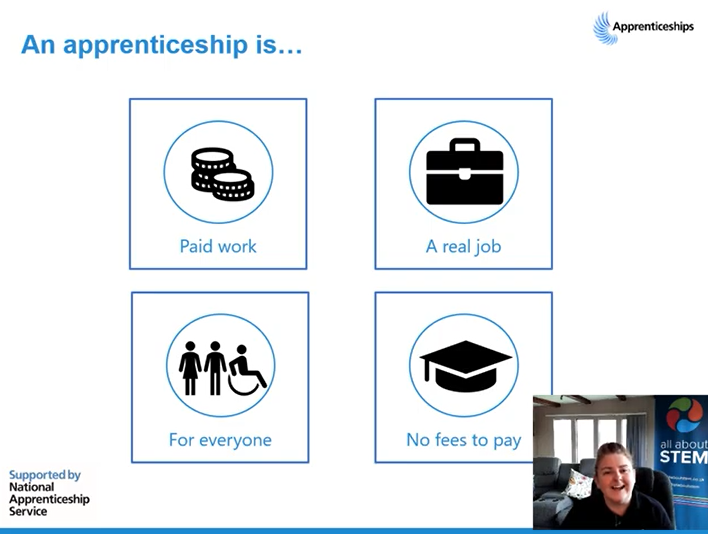 In this video students can discover the benefits of applying for an apprenticeship including study and wages, the type of companies offering apprenticeships and how to find available apprenticeships. There's also a fantastic list of links so learners and parents can find out more at the end!
Brought to you in partnership with the National Apprenticeship Service.
Did you know: Michelle is a real-life apprenticeship success-story!
Want more?
National Apprenticeship Week – Activities & Resources

All About STEM has been delivering the (ASK) Apprenticeship Support and Knowledge for Schools and Colleges project since March 2017. The project is commissioned by the National Apprenticeship Service to ensure that all young people are fully informed about the brilliant opportunities that apprenticeships offer.
Follow All About STEM on Twitter here
Careers: Follow All About Futures on Twitter here
North Region ASK
Amazing Apprenticeships
« Back To News