March 15th 2021
Celebrate Merseyside Astronomy Day!
This year Merseyside Astronomy Day (MAD) will take place online on the 27th of March.

It is a chance to hear about the latest cutting edge research from some of the world's leading astrophysicists and there are plenty of learner resources available too!
The Astrophysics Research Institute at Liverpool John Moores University (LJMU) is one of the world's leading authorities in Astronomy and Astrophysics.
Celebrate MAD, hear from guest speakers throughout the day and take part in an expert Q&A. It's FREE!
School Resources:
LJMU & The National Schools Observatory are offering FREE STEM activities each week!
Careers Video: Schools Employer Spotlight!

Your learners can discover more about the Astrophysics Research Institute & National Schools' Observatory.

"Meet with staff from LJMU's Astrophysics Research Institute and the National Schools Observatory to find out about the work they do, the courses offered and careers available, as well as the support they can offer to schools and young people."
Email us to request your school video!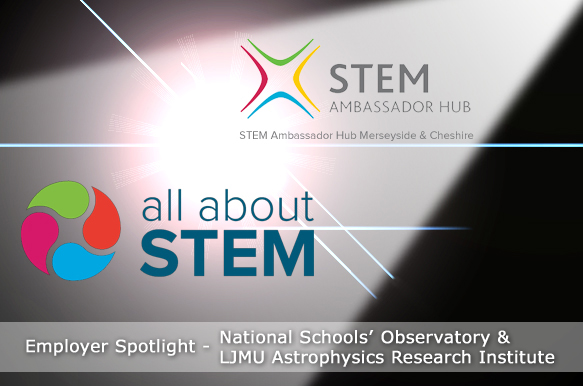 More: Space – 6 Week STEM Club Resources (RAF & All About STEM)

All About STEM works on lots of exciting STEM projects. As part of the STEM Learning family, we manage the STEM Ambassador Hub in Merseyside, Cheshire and Warrington, working closely with the regional Science Learning Partnerships in Merseyside and Warrington and Cheshire and Stockport. Follow STEM Ambassador Hub Merseyside & Cheshire on Twitter .
Follow All About STEM on Twitter here
Like All About STEM on Facebook
« Back To News