March 25th 2021
Manchester Schools: Fully Funded CREST Awards from Mewburn Ellis LLP
One of Europe's leading intellectual property firms, Mewburn Ellis LLP, is offering free CREST Awards and funding for schools in Bristol, Cambridge, London and Manchester.
As the Regional CREST Support Organisation for the North West, All About STEM is working to recruit eligible schools in Manchester.
In addition to receiving funding to cover the cost of Award fees (for all levels, within a set period*) schools will also have the opportunity to be considered for an additional £100 grant to support the costs of running the Awards.
OFFER UPDATED: Schools that express their interest after June 7th can complete their project until December 2021. In addition, a £300 grant is available to schools that would like to run a project with a whole year group.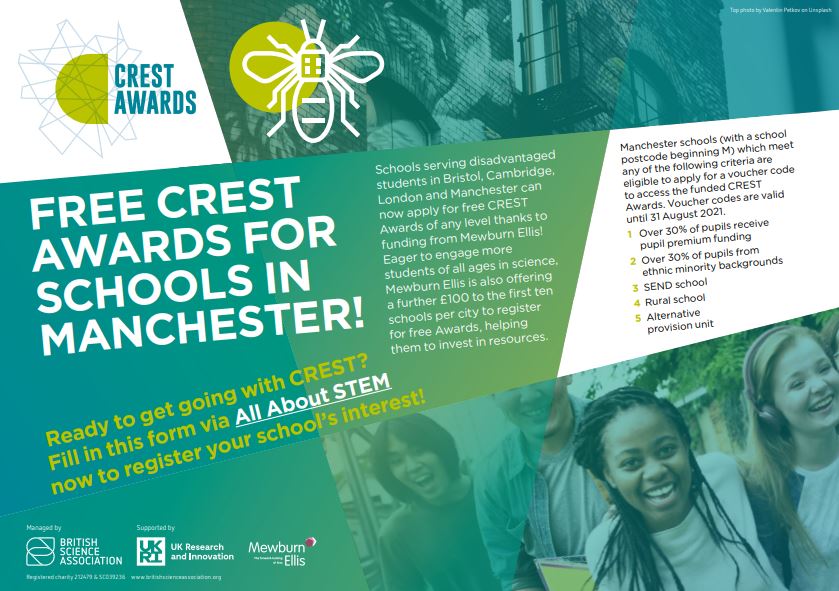 If your school is located in Manchester (has a school postcode beginning with M) and you meet one of the eligibility criteria listed below, then register your interest and one of the All About STEM team will get in touch.
Find out more about the different CREST award levels & projects here!
Eligibility Criteria
Schools must meet one of the following:
Over 30% pupils receiving pupil premium funding
Over 30% pupils from ethnic minority backgrounds
All pupil referral and alternative provision units
All SEND schools
Schools in a postcode listed as any type of "Rural" area under their government's Rural Urban classification system. (You can look up the Area Type for any UK postcode at https://www.ukpostcodecheck.com/)
If your school is in one of the other eligible regions (Bristol, Cambridgeshire, London), please visit the CREST Help Desk to find out how you can get involved.
*Voucher codes are valid until 31 August 2021.

As North West Regional CREST Support Organisation, All About STEM promote CREST Awards across the region and point schools & clubs to the support they need to run this amazing scheme. CREST Awards encourage students to work like scientists, researchers, engineers and designers to investigate and explore their own project ideas.
Follow All About STEM on Twitter here
Like All About STEM on Facebook
Follow CREST North West on Twitter
Follow CREST Awards on Twitter
« Back To News