October 21st 2021
Increase Access to Higher Education with Nuffield Research Placements
An independent evaluation of Nuffield Research Placements shows that they increase access to higher education courses in science, technology, engineering and maths (STEM).
Nearly a third (32%) of participants enrolled in a STEM course in a Russell Group institution, compared to 25% of comparable pupils with similar demographic background and academic attainment.
Participants reported that the placement enhanced their study motivation, overall confidence in abilities and specific skills in presenting, writing and time management.
Nuffield Research Placements provide over 1,000 students each year with the opportunity to work on a research project in a professional environment during their summer holidays. Students from low-income households and those who do not have a family history of going to university are prioritised.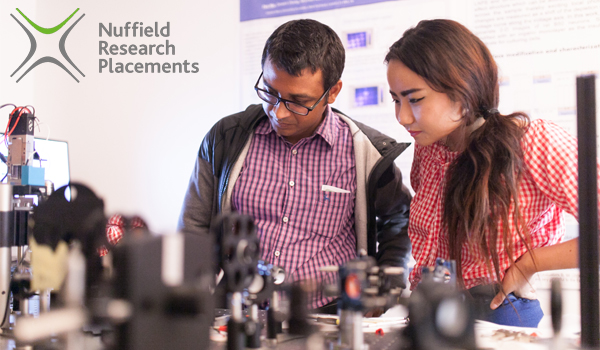 Nuffield Research Placements are a fantastic opportunity for Year 12 students to apply skills and knowledge learned at school and work alongside researchers and industry professionals.
If you're a young person (or their parent/guardian/teacher) interested in completing a placement, or a business, academic institution or other relevant stakeholder, interested in hosting a placement, click here for further information.
If you live in the North West you can email [email protected]
Nuffield Research Placements: Getting Your Year 12 Students Involved

All About STEM works on lots of exciting STEM projects. As part of the STEM Learning family, we manage the STEM Ambassador Hub in Merseyside, Cheshire and Warrington, working closely with the regional Science Learning Partnerships in Merseyside and Warrington and Cheshire and Stockport. Follow STEM Ambassador Hub Merseyside & Cheshire on Twitter .
Follow All About STEM on Twitter here
Like All About STEM on Facebook
« Back To News