November 08th 2021
The Liverpool City Region Careers Hub Annual Conference
Invitation to all Headteachers, Senior Leaders, Careers Leads and Enterprise Advisers directly engaged with Careers education.
The Liverpool City Region Careers Hub Annual Conference is being held at Liverpool Football Club on Wednesday 17 November 2021.
"We are pleased to announce that Steve Rotheram, Mayor of the Liverpool City Region will be opening the conference at 10 am and we will also be joined in person by Oli de Botton, Chief Executive of the Careers & Enterprise Company."
Venue details:
Liverpool Football Club
Free car parking available – Stanley Park car park on Priory Road, Anfield, L4 0TQ
Event:

Registration and breakfast from 9.15 am, conference starts at 10 am.
Lunch will be provided.  
Agenda: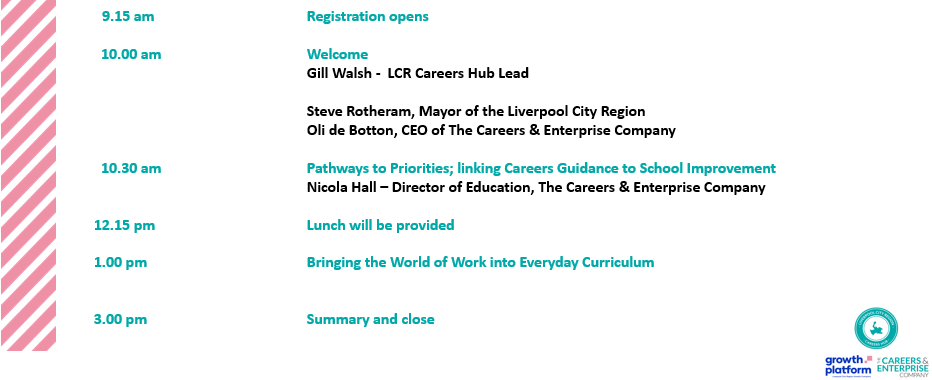 Guest speaker, Oli de Botton, new Chief Executive of the Careers & Enterprise Company will open the event
Oli joins The Careers & Enterprise Company from his position as Headteacher and co-founder of School 21 in Stratford, East London. School 21 is a nationally recognised school that has pioneered new ways of working with employers – including introducing extended work projects for all Year 10s and 12s. The school puts enterprise and work readiness at the heart of its curriculum and combines outstanding leadership with innovative ways of teaching and interacting with students.
Oli was one of the first cohorts of Teach First teachers in 2003. He has been Head of Sixth Form and Assistant Headteacher in previous roles and has worked in education policy and strategy as a government education advisor.
Guest speaker, Nicola Hall, Director of Education of the Careers & Enterprise Company
Nicola joined The Careers and Enterprise Company as Director of Education at the end of October 2019 following 7 years as a secondary headteacher. She started her career in industry as a graduate trainee in retail (the first-ever cohort of Excel in Retail management trainees recruited by Tesco Plc), developed skills in the field of development and delivery of corporate leadership training and then retrained as a teacher and taught in both further education and secondary provision prior to being a Headteacher.
Over the past seven years, Nicola was founding headteacher of both a Studio School which delivered an innovative, skills-based curriculum heavily co-constructed and delivered by key industry partners and a mainstream secondary school. These leadership experiences: industry and education alike, have always been about the development of young people and their pathways to their future careers. Nicola can see and understand the challenges and opportunities faced by both education and continually developing industry sectors in preparing young people for their futures in a fast-changing world of work. She joined CEC to encourage system leadership and support the development of a world-class, inclusive and sustainable careers offer for young people which continues to evolve as a relevant and deliberate part of their whole education.
There will be an opportunity to ask questions at the end of the morning session, please send them to [email protected].

All About STEM (All About Futures) partner with Growth Platform, Career Connect, Sefton EBP, St Helens Chamber, Shaping Futures, Wirral Chamber and the Liverpool City Region Combined Authority as the Careers and Enterprise Company Career Hub for the Liverpool City Region.
'Connecting schools and colleges with employers and careers program providers, to create meaningful encounters for pupils with the world of work.'

Follow All About Futures
Follow All About STEM
Follow LCR Careers Hub
Follow The Careers & Enterprise Company
« Back To News