January 28th 2022
Choose Your Resources: National Apprenticeship Week
National Apprenticeships Week 2022 will be held from Monday 7th February to Friday 11th February – and this is coming up fast!
To support your school with NAW22, we have a variety of activities and resources available to you, entirely free of charge! These include videos, resource packs AND some live online sessions too!

Take a look at the resources available below and use our quick-form to make your selection – we'll send them right to your inbox. Don't forget, if you would like to attend our live sessions, please register via the Zoom links below.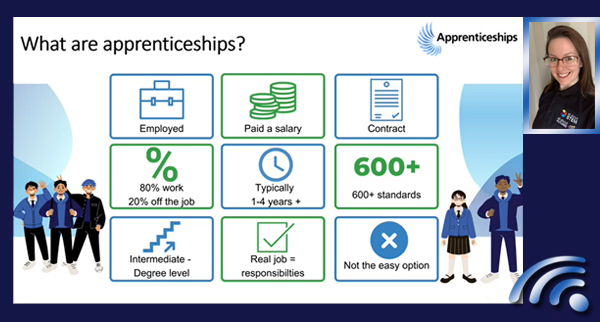 Resources
Video Series – we are offering a series of 4 videos which we can send to you which cover 4 key topics; Introduction to Apprenticeships, How to Register for Apprenticeship Vacancies, Higher & Degree Apprenticeships, and Apprenticeship Application Tips. These four separate videos can be used independently, or as a series, to support your learner's knowledge and understanding about apprenticeships.
PDF's – we have a range of PDF resources which can be emailed out to learners which provide general reading and information about apprenticeships. These resources are great to be put on on the school intranet for wider sharing, or even included in learner/parent mailers. These are non-interactive, but are really helpful for widening knowledge and understading about all things apprenticeships!

The following PDF's are available:

– The A-Z of Apprenticeships
– A Guide to Apprenticeships
– What's the Difference between T-Levels, Traineeships and Apprenticeships?
School Support – there are a range of resources designed exclusively for staff, including the senior leadership team and governors too. This information revolves around understanding the bigger picture about Gatsby benchmarks and provides strategic and management support about maximising apprenticeships.

The following PDF resources are available:

– Apprenticeship Guide for Senior Leadership Teams
– Apprenticeship Checklist for School Governors
– Interactive Apprenticeship Guide for Teachers of Year 12 and Year 13
– Apprenticeship Benchmark Tool
– Achieving the Gatsby Benchmarks
Digital Activity Packs
Apprenticeship Guide Pack for Yr 12 and 13 – this pack is an interactive student booklet created by ASK Apprenticeships which guides learners from Year 12 and 13 through the considerations ahead of applying for an apprenticeship. It covers what apprenticeships are, the benefit of doing an apprenticeship, and helps learners answer the question 'is an apprenticeship right for me?'. It also gives advice on money and finances linked to apprenticeships too.
Apprenticeship Guide Packs for Year 7, 8 and 9 – these packs are a lot lighter on information than the Apprenticeship Pack for Year 12 and 13, but helps introduce younger learners to apprenticeships. The packs contain fun activities like crosswords and puzzles, exploring famous apprentices, and understanding the basics of what it means to have a career. These packs are also fully digital and there are three separate packs – one for each year group.
Key Stage 3 Apprenticeship Activity Pack – these packs are teacher led, and help to facilitate activities in the classroom linked to apprenticeships. The pack includes an activity booklet for learners and a teacher handbook specific to each year group. It also includes a PowerPoint presentation which can be used in your classroom to underpin the information and support you with class-time delivery.
Live Sessions
There will be two live sessions delivered during NAW22 – a parents session and a CV writing session.
The parents session will be held at 6pm on Tuesday 8th February and is intended to support parents/guardians/carers with their knowledge and understanding about apprenticeships. For many parents/guardians/carers, apprenticeships are seen as something to avoid as the experience of what an apprenticeship was 20+ years ago is very different to what it is today! So the session will be providing up to date information as well as doing a bit of mythbusting and will have time throughout to ask questions.

Parents can find out more & book a place on this session here


The CV writing session will be held at 4:30pm on Thursday 10th February and is designed to support learners with their understanding of what it means to create a good quality CV. The session will guide you through CV structure and provide hints and tips to make sure that your CV stands out from the crowd.

Learners can find out more & book a place on this session here

All About STEM has been delivering the (ASK) Apprenticeship Support and Knowledge for Schools and Colleges project since March 2017. The project is commissioned by the National Apprenticeship Service to ensure that all young people are fully informed about the brilliant opportunities that apprenticeships offer.
Follow All About STEM on Twitter here
Careers: Follow All About Futures on Twitter here
North Region ASK
Amazing Apprenticeships
National Apprenticeship Week 2022: School Support
NAW22: Resource Bundle
National Apprenticeship Week: LCR Careers Hub Offer

« Back To News