February 23rd 2022
Year 12 Nuffield Research Placements: Application Date Extended!
Nuffield Research Placements are a fantastic opportunity for students to apply knowledge and skills learned at school and work alongside researchers and industry professionals. The application date has been extended so there's still time to apply!
Watch our Student Introductory Video below to find out more.
---
*EXTENSION TO APPLICATION DEADLINE!*
The official deadline for NRP applications in the North West region is 28th February 2022. However, several teachers have contacted us to say that the February half-term break was causing challenges for students in completing their applications/sourcing references.
We have therefore made the decision to extend the application window to 31st March 2022.
Applications must be submitted online by 31st March 2022.
---
Student Introductory Video
We want all students from all institutions to be able to access information and guidance about what the programme entails and how to apply. We've therefore made a recording of our Student Introductory Presentation so teachers can show them to their classes, post them on their Y12 school VLE or share them directly with specific students.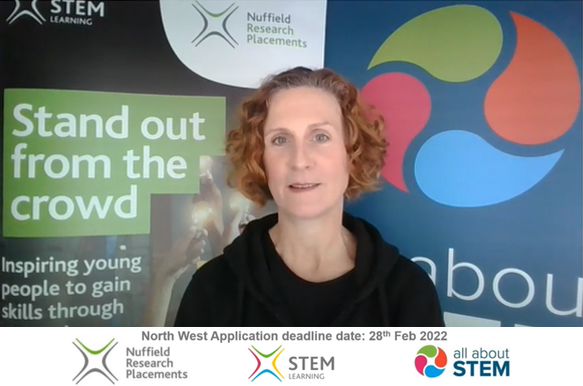 Student Introductory Presentation
The Student Introductory Presentation gives an overview of the Nuffield Research Programme exploring questions such as:
What is a Nuffield Research Placement?
Is the programme for me?
Am I eligible to apply?
What are the benefits of taking part?
What might I do as a project and whom might I be working with?
What is the programme schedule?
How do I apply?
What additional benefits could I gain?
The presentation is perfect for introducing students (and staff) to the programme and helping them to get a sense of what's on offer and why getting involved in the programme could be a really brilliant opportunity. It is suitable for use in a relevant A level subject lesson (Sciences, Maths, Engineering, Technology, Computing, Geography, Economics, Social Sciences, Psychology, Sociology, Statistics and Data Science etc) or within an assembly, enrichment or Careers Education context. It lasts just under 20 minutes.

All About STEM works on lots of exciting STEM projects. As part of the STEM Learning family, we manage the STEM Ambassador Hub in Merseyside, Cheshire and Warrington, working closely with the regional Science Learning Partnerships in Merseyside and Warrington and Cheshire and Stockport. Follow STEM Ambassador Hub Merseyside & Cheshire on Twitter .
Follow All About STEM on Twitter here
Like All About STEM on Facebook
« Back To News