July 21st 2022
Queen's Park High School Students Awarded 196 CREST Awards!
WOW! What an achievement. We were bowled over when Queen's Park High School completed their CREST Discovery Awards and confirmed that 196 amazing pupils had earned their certificates!

As well as introducing their students to engineering for international health, we loved how Queen's Park showcased and enhanced the enterprise elements of the Discovery Award. They created a 'Science Shop' to bring the design and build process to life while encouraging learners to budget for their materials. And what a treat to present student prizes on completion too!

We spoke to Miss Sutton, Science Achievement Leader at Queen's Park High School to find out more about the student's experience of CREST:
"In March, students in Years 7 and 8 celebrated British Science Week with a new and exciting STEM project.
As part of the 'Stop the Spread' initiative, students were set the challenge of building a handwashing device that could capture rainwater which could then be used to wash hands. The idea was introduced by the UK CREST awards scheme and the device would be for a primary school in Kenya that would improve their general hygiene. The device needed to be able to collect and dispense rainwater, be made from locally sourced and sustainable materials and keep within a tight budget!"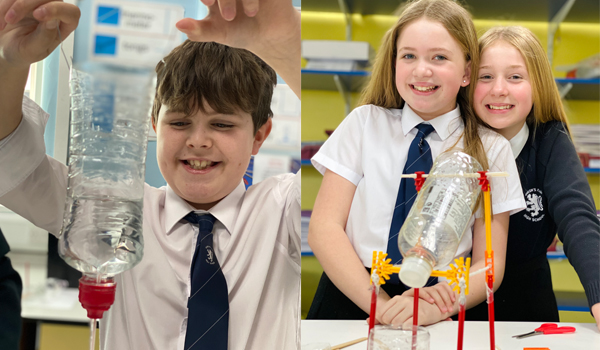 "Students worked in teams as researchers, product designers and engineers to plan and build their model. Students started by getting creative and worked in teams to draw out their designs. Then using the project shopping list they purchased modelling materials from the science 'shop' to construct their devices whilst calculating the overall cost.
Students worked collaboratively to build, test then redesign to improve their models.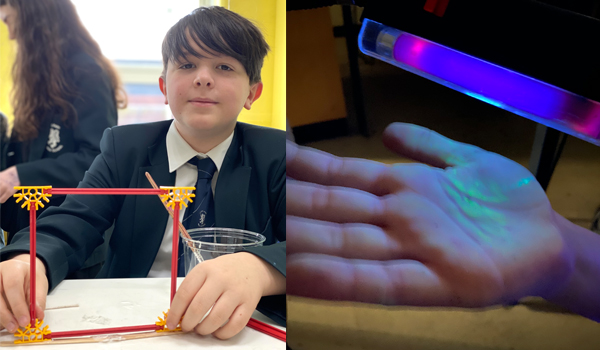 The final part of the challenge tested students' creativity and communication skills as they produced an educational resource to explain the importance of hand washing and why it is key in reducing the spread of infectious diseases. The creativity of the students shone through as the resources ranged from leaflets, poems, books and even a podcast!
After nearly two weeks of hard work, students were ready to share their work with the rest of their year group. Each team presented their ideas on handwashing and demonstrated how their models worked.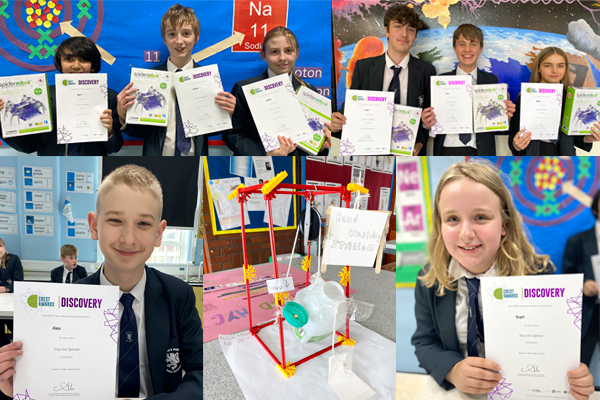 The student's work was collected at the end of the project and submitted for a Discovery CREST Award. CREST is a UK award scheme for 11-19 year olds recognising success, building skills and demonstrating personal achievement in science technology, engineering and maths project work. We were delighted to announce that 196 students were awarded a Discovery CREST award for their hard work and an overall winning group from each year, was selected for a special prize. To the delight of these students, each also received a dynamic robotic spider!"
Fantastic Feedback:
"I enjoyed that the project has given us a chance to express ourselves. We were able to work with other people and collaborate. We could use our creativity to make anything." – Year 7 Student
"Science week has given us all the freedom of imagination and has helped us to improve our teamwork skills." – Year 7 Student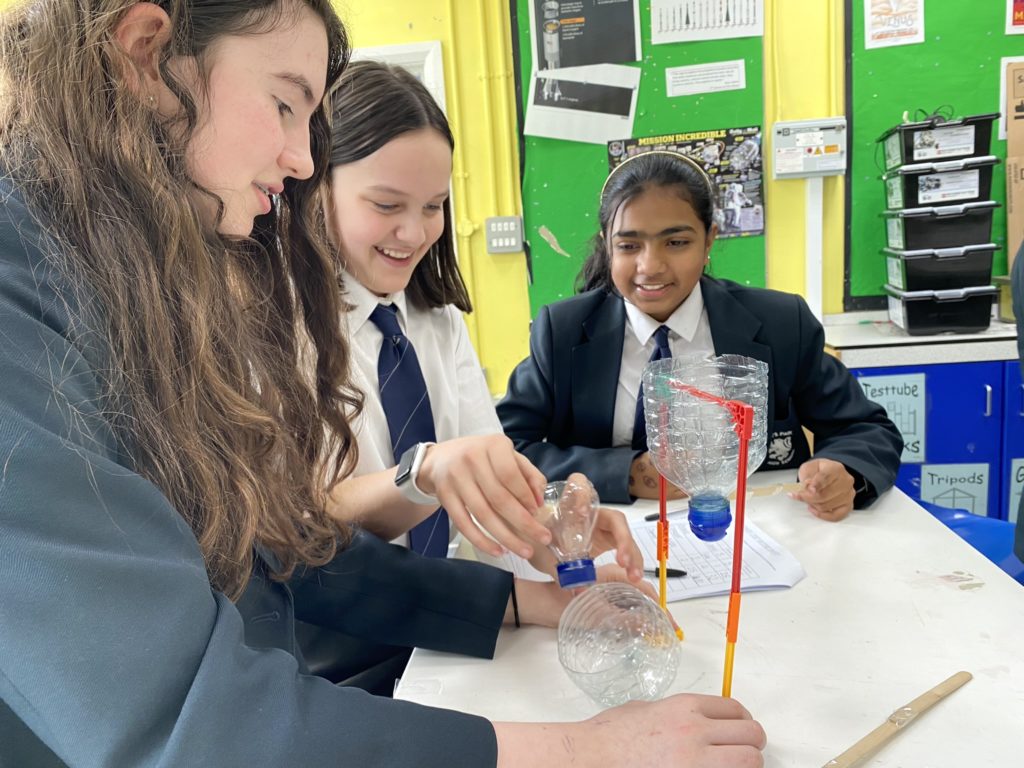 "I really enjoyed making the water devices which could help people collect more water." – Year 7 Student
"I enjoyed making the models and developing teamwork skills." – Year 7 Student
"I liked researching the importance of handwashing and creating our presentations." – Year 7 Student
"The CREST awards have allowed us to recognise the hard work of students during the project. This project work provided the opportunity for students to develop their transferrable skills such as teamwork and presenting. It was fantastic to see students engaging in a STEM project linked to a real-world problem and further develop their understanding of STEM." – Miss Sutton, Science Achievement Leader
So many STEMsational students! Congratulations to Queens Park High School, after such epic accomplishments we can't wait to see your next projects!
There's no doubt that Queen's Park is dedicated to inspiring individuals, empowering young minds and defining futures.
Get involved! Run CREST at school or home – there are awesome activities for all ages!


As North West Regional CREST Support Organisation, All About STEM promote CREST Awards across the region and point schools & clubs to the support they need to run this amazing scheme. CREST Awards encourage students to work like scientists, researchers, engineers and designers to investigate and explore their own project ideas.
Follow All About STEM on Twitter here
Like All About STEM on Facebook
« Back To News