All About STEM AMBASSADOR
Krystina Pearson-Rampeearee
Krystina has a sensational STEM Ambassador story… click to take a look!
All About STEM: Engineering Your Future schoolgirl returns as inspirational expert!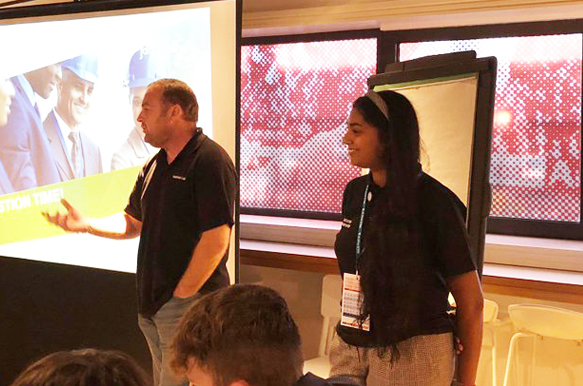 Name: Krystina Pearson-Rampeearee
Location: Liverpool
Job Title: Flight Systems Engineer
Company Name: BAE Systems
Fun Fact:
While I was on Maternity Leave, I filmed a few episodes of a TV Series called The Baby Club for Cbeebies with my little boy.
What do you do day-to-day?
My job title is a Flight Systems Engineer which involves designing, developing and supporting a range of aircraft flight systems. In my day-to-day role I could be collaborating with suppliers, performing research, coordinating tasks for my team, liaising with other disciplines and carrying out my tasks which vary depending which part of the Engineering Lifecycle I am working in.
What are the best & worst parts of your role?
The worst part of my role can be balancing workload when unplanned urgent work needs to be done, but I enjoy organising which helps me to manage my workload. The best and most satisfying part of my role is seeing a finished product, that I have been involved with, fitted onto an aircraft.
How do you dress for your role?
I dress smart but comfortably!
What subjects did you study at school & what qualifications do you need for your role?
I studied Maths, Physics and Chemistry for my A levels and completed a Masters degree in Aerospace Systems Engineering at the University of the West of England.
What was your favourite subject in school?
My favourite subject at school was Physics as I enjoyed learning about how things work
What do you see yourself achieving professionally within the next 10 years?
I really enjoy my job and in the next 10 years I hope to be managing a team using the experience that I have gained. I am also currently working towards my Chartership with the Engineering Council which I feel would be a great personal achievement.
Classroom Inspiration! STEM Ambassador Spotlights:
If you're a teacher, or community group leader, you can download our current STEM Ambassador Spotlights and use them to support your activities with young people.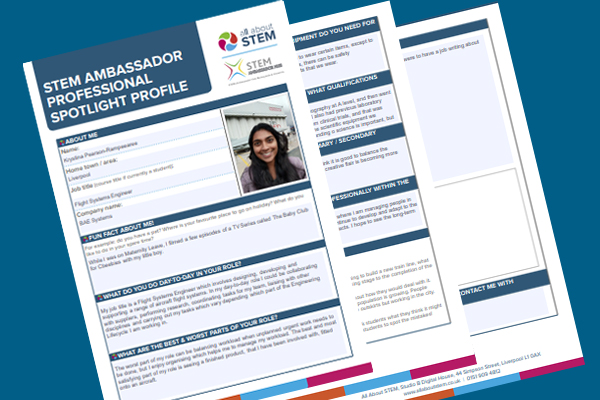 Could you be our next STEM Ambassador in the spotlight?
Get in touch!

You can find out more about becoming a STEM Ambassador or request an ambassador for your school here. Make a difference and help inspire the thinkers of the future… 
All About STEM works on lots of exciting STEM projects. As part of the STEM Learning family, we're responsible for the regional STEM Ambassador Hub, managing the STEM Ambassador Programme in the Merseyside, Cheshire and Warrington areas.
Back to Ambassador Opportunities