All About STEM AMBASSADOR
Laura Bonnett
Laura has received numerous accolades for her research and educational outreach:
– Dr Laura named RSS William Guy lecturer for 2020 recognising successful school outreach
– STEM Ambassador Dr Laura Bonnett announced as Rosalind Franklin Award Lecturer
STEM ambassadors can visit your school & inspire your learners with their expertise.
Find out more about Dr Laura…
Name: Laura Bonnett
Location: Knowsley
Job Title: Medical Statistician
Company Name: University of Liverpool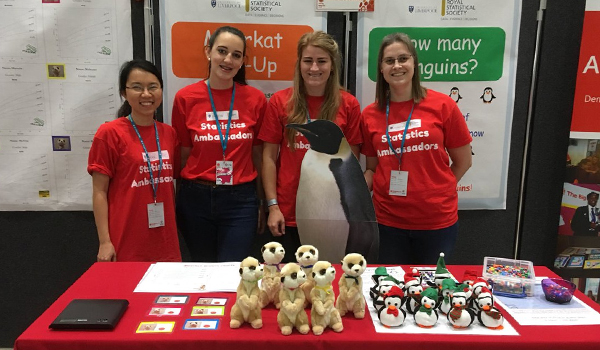 Fun Fact:
In my spare time I play the flute and piccolo in 3 local amateur orchestras and sing in my church choir
What do you do day-to-day?
My job is really varied. Although I usually spend it sat behind a computer, the tasks I do on that computer can be anything from replying to emails to running a big analysis to answer a really important medical question. I often get to teach students too and meet people who need a hand with their own statistical analysis. Sometimes I get to give talks around the country and to go to conferences all over the world.
What are the best & worst parts of your role?
I love the variety – that can be challenging in itself as you have to manage lots of different tasks all at the same time but the variety is amazing. I admit that the emails are the worst part of my job – I can get 100 per day and it can be really difficult to keep on top of them all!
How do you dress for your role?
You can generally wear whatever you like to work at a university. Some people wear jeans and their favourite t-shirt, while others (like me) tend to go for something more formal. In terms of equipment, I can do my job just using a PC. It needs to have specialist statistical software on it though, such as R, or SPSS or Stata or SAS.
What subjects did you study at school & what qualifications do you need for your role?
I did all the usual GCSEs plus geography, ICT and music. I then did maths, further maths, biology, chemistry, music & general studies at AS level, with maths, further maths, chemistry and general studies for A2. For my current role you actually need a PhD in medical statistics and to do a PhD you need an undergraduate degree in a maths-based subject (and usually a masters degree in medical statistics).
What was your favourite subject in school?
I always loved maths at school because it was very logical and there was a right answer. I struggled with more arts-based subjects whereby you could write a whole essay and apparently have said two relevant facts that were worthy of marks!!
What do you see yourself achieving professionally within the next 10 years?
Wow – what a tricky question! I think I will stay within academia and so in 10 years I might have become a Professor of Medical Statistics which would be quite cool!! In the meantime I'll continue to get my work published in journals and bid for money to take on more research.
Classroom Inspiration! STEM Ambassador Spotlights:
If you're a teacher, or community group leader, you can download our current STEM Ambassador Spotlights and use them to support your activities with young people. They are great for STEM club, home learning or school as every profile has a project or challenge included!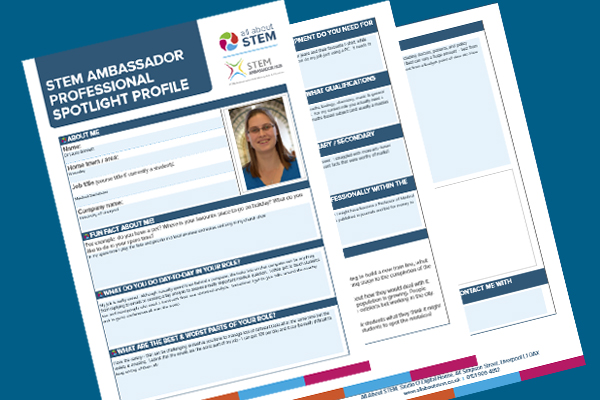 STEM Ambassador Laura Bonnett: 'How to always win!' Statistics Outreach Activities
STEM Ambassador Laura Bonnett: Penguin Poo! Statistics Outreach Activity
An Ambassador Session with Dr Laura:
8:15 on a Thursday morning in September.  It's a glorious day – the sun is out and the temperature's rising.  I pick up the two large boxes of paperwork, poster tube and laptop from my car boot and walk, with some trepidation to the reception area of Ormiston Bolingbroke Academy, Runcorn.
I am not a teacher.  I am a medical statistician at the University of Liverpool (and a STEM Ambassador).  I spend my days sat behind a computer analysing data and researching statistical methodology.  What I am about to do is a far cry from my day job.
I'm greeted at reception by a lovely lady who signs me in and then the STEM co-ordinator for the school greets me and takes me into the Learning Space.  It's a great room, full of colour and light.  Around the room are various scientists emptying boxes, erecting posters and getting various machinery and props.
Why am I here?  Today, the school are holding a STEM careers fair.  It's a carousel type event where pupils from KS4 and KS5 classes will get the chance to meet various professionals from STEM careers.  The aim of the day is to broaden the pupils' minds concerning future careers, especially those in STEM subjects which tend to be less popular choices.
At today's careers fair there are three engineers (material, structural and civil), a doctor, a nurse, a pharmacist, a geologist, a nuclear physicist, a mechanic, a chemist and, of course, a statistician.
At 9am the first class enter the room.  I'm not sure who's more nervous, the pupils or the professionals!  After a couple of minutes though the pupils split away from the group and head to the various stalls to begin quizzing the scientists about their jobs.  I talk about my research, the lecturing I do, the Royal Statistical Society and in particular the Merseyside local group, and the Cochrane Collaboration.  My 'presentation' may not be as exciting as the gentleman next to me who is sucking all the air out of plastic bottles, but it catches the attention of the pupils which is the aim, especially all the colourful leaflets on my table.
By 3pm the day is over and we've met at least 300 pupils.  I'd be lying if I said that I wasn't nervous at the start of the day.  However, the first two pupils who came to talk to me were really confident individuals, who were most polite and genuinely interested in what I did.
I'm really pleased that I spent my day at Ormiston Bolingbroke.  It's lovely to see pupils who are enthusiastic about education.  In addition to the traditional subjects the school offers alternative subjects such as hairdressing and car mechanics and I had two pupils come up to me, in their hairdressing salon uniform, and were so interested in what I had to say that they took a copy of Significance home with them!
If I'm being honest I'm not sure any one of the pupils will become a statistician as a result of me being there.  But, 300 more people know what a statistician does and why the role of a statistician is so important.
Tired? Yes! Glad to get home? Yes! Would I do it again? Absolutely!
Could you be our next STEM Ambassador in the spotlight?
Get in touch!

You can find out more about becoming a STEM Ambassador or request an ambassador for your school here. Make a difference and help inspire the thinkers of the future… 
All About STEM works on lots of exciting STEM projects. As part of the STEM Learning family, we're responsible for the regional STEM Ambassador Hub, managing the STEM Ambassador Programme in the Merseyside, Cheshire and Warrington areas.
Back to Ambassador Opportunities