Managing your STEM Ambassador account
Once you're an approved STEM Ambassador, you will have full control of your online STEM Ambassador account and should keep your personal details and your volunteering log up-to-date.
You are here:

Managing your STEM Ambassador account
more Info
Once you have registered as a STEM Ambassador volunteer, you can sign in to your STEM Ambassador account to:
update your personal details
browse activities, advertised by schools, youth and community groups or other organisations
log activities you have taken part in, which were organised by yourself or your employer
provide feedback about completed activities
There is some useful information about managing your account, finding and logging activities (including a video) on the main STEM Learning website.
Signing In to Your STEM Ambassador Account
You can sign-in to your account at www.stem.org.uk using the email address and password you used when you first registered. If you have forgotten your password, please use the password reset facility on the sign-in page. If you have forgotten which email address you used to register, please contact us.
Browsing Advertised Activities
Once you are signed-in, from your Dashboard, you can Browse activities to view requests for support. If you find anything you'd like to take part in, you will be able to click an Express an Interest button on the activity page and, if you wish, message the activity owner via the website.
The activity organiser will receive an email, informing them of your interest and should accept your offer or contact you through the messaging facility to discuss the activity. They may also decline your offer if, for example, they already have enough support for the activity.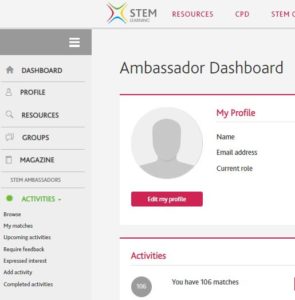 For further assistance try viewing the 'Guide to Finding A Volunteering Activity' on the STEM Learning website, which includes a useful video.
Logging Your Activities
It's essential that you log your volunteering activities so that the work that's done under the umbrella of the STEM Ambassador Programme can be measured, evaluated and reported back to government.
If you take part in an activity advertised on the STEM Ambassador website, by expressing an interest via the messaging facility, it will automatically be logged on your account once the activity is closed after the event.
If you take part in an activity organised by yourself or your employer, you will need to log this yourself by following the instructions below. A printable version is available in the Downloads section.
Sign in to your STEM Ambassador account
From your Dashboard, click the Activities Menu on the left-hand drop down
Click 'Add activity' and complete the form which opens up, with the details of the activity you have done
Evaluating Your Activities
We encourage STEM Ambassadors to contribute to the collection of data to measure the impact of the STEM Ambassador Programme by using the STEM Ambassador Impact Toolkit.
Click here to visit our STEM Ambassador Impact Toolkit page.
Here you will find a STEM Ambassador Impact Toolkit Guidance Document as well as some simple Data Collection tools you can use.
Feeding Back After Your Activities
You will receive automated feedback emails from STEM Learning following activities advertised via the STEM Ambassador website. Please do take the time to complete these as the information contributes to the evaluation of the Programme as a whole.
STEM Ambassador Spotlight
We're keen to highlight our brilliant volunteers and introduce them and their job roles to our schools and young people. If you'd like to complete a STEM Ambassador Spotlight Profile, available in the Downloads section below, and return it to [email protected] , we'll feature you on our website and share your profile with schools or community groups.
Downloads
LATEST NEWS
All About STEM is always out and about. Here we bring you stories of what we've done and news items about things we're planning. We're adding new items regularly so come back to see what we're up to.