May 19th 2016
Educate Magazine: 'MerseySTEM light up LightNight Festival!'
A HUGE THANK YOU to Educate Magazine for their amazing piece on MerseySTEM at LightNight.
As a team, we are overjoyed that LightNight was such an amazing success and that everybody loved our Robotics Challenge – a fantastic festival, sharing the culture and creativity of Liverpool!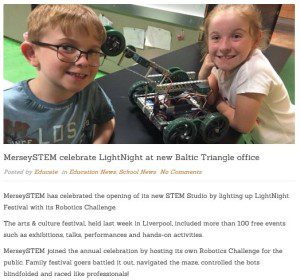 Click here to read the full story from Educate Magazine…
Liverpool 'Loving' MerseySTEM Robotics Challenge at LightNight Festival
Liverpool Echo: Number 1 for Children at Liverpool LightNight – MerseySTEM
THE BIG BANG NORTH WEST 2016 IS COMING:
Don't let your school miss out!
Click here to book…
Sponsors & Exhibitors: Play your part in The Big Bang North West!
Follow MerseySTEM on Twitter here
Follow The Big Bang North West on Twitter here
Like MerseySTEM on Facebook
« Back To News