June 15th 2020
Teachers: Discover the support we offer LIVE!
Come and meet virtually with the All About STEM team!
Find out more about the support, resources & programmes we offer.
We have three fantastic Inside Scoop events coming up on Zoom!
The Inside Scoop Online (Apprenticeships)
Thursday 18th June 2020 – 3:30 pm
– Find out about how you can engage with the ASK project and STEM Ambassador Programme to support your own and your students' understanding of apprenticeships
– Meet some of our STEM Ambassadors who have followed an apprenticeship route into their current career
– Meet other local partners working in the field of apprenticeships and recruitment
The Inside Scoop Online (General)
Wednesday 24th June 2020 – 11:00 am
– Find out about how you can engage with some of the different projects we run e.g. the STEM Ambassador Programme, the Apprenticeship Support and Knowledge for Schools programme, the Careers & Enterprise Company, STEM Clubs Champions, the Inspiration Station, CREST Awards
– Meet one of our STEM Ambassadors, a flight systems engineer, who'll be setting a challenge activity for your pupils
– Chat with others about what's happening in your schools and workplaces during these peculiar times and have a bit of fun!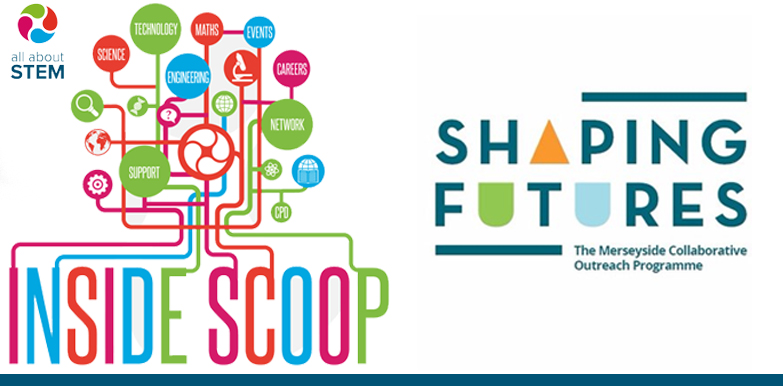 The Inside Scoop Online with Shaping Futures
Friday 3rd July 2020 – 1:30 pm
Come and meet virtually with the All About STEM team and our partners Shaping Futures!
Shaping Futures is part of the Uni Connect Programme and provides all secondary schools and colleges across the Liverpool City Region with comprehensive, impartial information, advice and support on all matters relating to Higher Education in one easily accessible place.
As a partnership of 12 local providers of Higher Education, Shaping Futures are committed to ensuring learners, parents, teachers and advisers are fully equipped to better understand the Higher Education landscape, to access outreach locally and to support learners with the HE decision making process.
Join us to find out how All About STEM and Shaping Futures work together and what's available for your school to engage with!

Home & School Learning Resources & Activities:
All About STEM's Inspiration Station!
Science•Tech•Engineering•Art•Maths•Mind•Body
Follow All About STEM on Twitter here
Like All About STEM on Facebook
More: Home Learning Activities with CREST Awards and STEM Learning
« Back To News