July 02nd 2020
CREST: Home Learning – Silver Awards
CREST projects are flexible and fantastic for home learning!
Silver projects takes about ten to thirty hours and once your child submits their completed project they can receive a CREST Award.
The projects are:
How does cooking change pasta?
Make your own teabag
The ultimate pizza box
Climate Science Resource Pack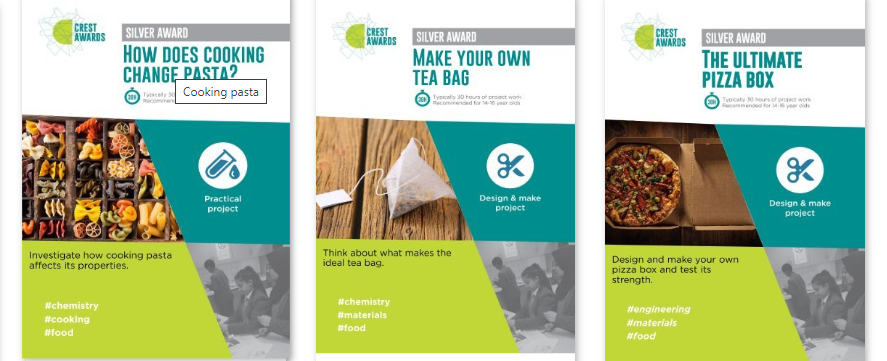 CREST Silver stretches students and enriches their studies. Typically completed by students aged 14+, projects require around thirty hours of work and lead to a body of work. This work could be a written report, video diaries or something else entirely. Suitable coursework (e.g. GCSE Design and Technology) or other project work for work related learning, could be used to achieve CREST Silver.
At Silver level students begin to develop their own project ideas, using their teacher, club leader or supervisor as a sounding board for discussions. They are also expected to consider the broader impact of their project, demonstrate an innovative approach, and write a project report or portfolio of evidence to present to their CREST assessor.
Projects are also available for 5-17 year olds.
Click here to take a look and get started!

As North West Regional CREST Support Organisation, All About STEM promote CREST Awards across the region and point schools & clubs to the support they need to run this amazing scheme. CREST Awards encourage students to work like scientists, researchers, engineers and designers to investigate and explore their own project ideas.
Home & School Learning Resources & Activities:
All About STEM's Inspiration Station!
Science•Tech•Engineering•Art•Maths•Mind•Body
Follow All About STEM on Twitter here
Like All About STEM on Facebook
« Back To News