Take the Alu D&T Challenge!
The Alu D&T Challenge is the aluminium industry's online teaching resource for 11-14 year olds. 
The free teaching materials are linked to the Design & Technology curriculum and provide teachers with lesson plans, PowerPoint presentations and videos to help bring the world of aluminium, design and engineering to life.
They are available online here…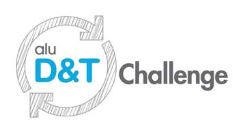 Last year over 340 teachers downloaded the resources, and over 20,000 students learned about aluminium and the contribution it can make to sustainable design as a result.
« Back To Resources