May 12th 2014
NHS sponsors The Big Bang North West!
We are overjoyed to announce that one of our key sponsors for The Big Bang North West will be…. (drumroll please) …the NHS!
The MerseySTEM team cannot thank you enough for your support, we are determined to make The Big Bang North West the biggest and best yet and with help from our sponsors we can do just that – more booms, bangs and fizzes along with facts, fun and the truly fantastic!
(We'd like to say thank you in advance from the 3000 children who'll be attending too!)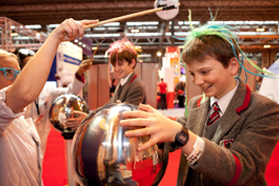 Healthcare Science Workforce Lead Helen Liggett: "The NHS is proud to be a key supporter of the North West Big Bang Fair 2014. There are over 350 different career opportunities in the NHS for students of all abilities who want to work in healthcare and make a difference to patient care. The NHS stand will have a diverse range of healthcare professionals available with exciting hands on demonstrations so come and meet scientists, paramedics, pharmacists, cardiac physiologists and midwives and many more to inspire you to want to join the NHS team and make a difference."
Would you like to sponsor The Big Bang North West?
As well as the marketing opportunities and benefits to you, you'll be helping to develop young minds and encouraging their love of all things STEM – creating the thinkers of the future!
Email us at [email protected] or call us on 0151 527 3823. We'd love to chat to you about how you can be involved!
Click here to take a look at the various sponsorship packages we offer… (We're big fans of our rather snazzy page-turn booklet)
« Back To News