June 03rd 2014
MerseySTEM Event Review: 'Life-changing'
We love hearing your feedback and we had a fantastic surprise in the mail this morning!
We received two letters from Charlotte Pritchard and Amy Macfadyen via Lynn Stapleton, Head of Technology at University Academy Warrington.
Both girls attended our Chemistry Event at Daresbury Laboratory and enjoyed their time so much they felt the need to put pen to paper. We work hard encouraging children to get excited about STEM, but it doesn't get better than being described as life changing!
"Our time at the event at Daresbury Laboratories was overall a life influencing experience. Throughout the day we were constantly challenged whilst participating in fun activities.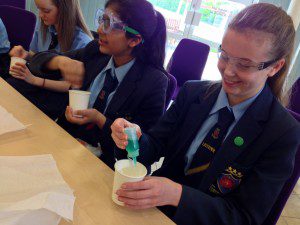 Our favourite session of the day was having the presentation from Alan (scientist at Daresbury Labs). His life changing story of being bottom of the class with no aspirations in life, venturing through the pain of life and turning his life around with such determination to be able to achieve his goals and dreams and he now his the important job of being a scientist!
We came away from the event realising that we need to concentrate and not take education and opportunities for granted. We came away with a completley different view toward science and engineering and opened our minds to see the opportunities that are in our reach waiting for us… we just have to take them.
Thank you to Daresbury Laboratories and everyone involved who made our day so memorable."
You're more than Welcome ladies! Thank you for your amazing review and a big thank you to Aimee who enjoyed her experience so much, she's applied to do her work experience here at MerseySTEM!
Click to join us for one of our upcoming events… and don't forget The Big Bang North West is coming up!
« Back To News