July 22nd 2014
Big Bang North West: Jamie Edwards Record Breaking Nuclear Fusion at 13
After presenting his record breaking Nuclear Fusion Project at The Big Bang North West, National Science and Engineering Competition semi-finalist Jamie Edwards has made it through to the Grand Final!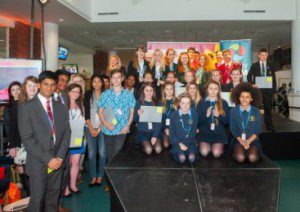 The 13 year old successfully achieved fusion on the 5th of March 2014. His reactor was able to smash two hydrogen atoms together, making him the youngest person to create helium through nuclear fusion. His experiments took place in a controlled environment at Penwortham Priory Academy in Lancashire.
Head teacher Jim Hourigan said: 'I was a little nervous when Jamie suggested this but he reassured me he wouldn't blow the school up' – We have to say we're rather glad The Big Bang North West wasn't literally a 'Big Bang' too!

Good luck to all of the finalists for our region, there were so many fantastic entries.
Relive The Big Bang North West here
Take a look at Jamie's Blog here
« Back To News