July 22nd 2014
Calderstones Tower 2 Tower: Ready… set… GO!
Team MerseySTEM are on the edge of our seats this morning as Calderstones Tower 2 Tower Challenge is on!!!
Team Calderstones are raising money for Liverpool-based mental health charity, Imagine Independence in honour of Mr Phil Gibbons (Calderstones Community Comprehensive School) and MerseySTEM are more than proud to be sponsoring the riders.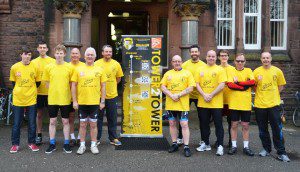 The Tower 2 Tower bicycle challenge runs from Liverpool's Radio City Tower to Paris's Eiffel Tower, sixteen drawn from the school community accepted the challenge to undertake 500 gruelling miles in just five days. Celebratory photos coming soon… it all starts on Wednesday.
The cyclists are looking for support from local companies and the public.
Donations can be made here

More information on the Tower 2 Tower challenge here
Follow MerseySTEM on Twitter here
Follow The Big Bang North West on Twitter here
Like MerseySTEM on Facebook
« Back To News