November 17th 2014
Happy Birthday Zoe!
We've gone all out today to wish our newest team member a Happy Birthday!
Our very own Science Grrl Zoe Chapman, is not only studying for her Biochemistry Degree but shining brighter than Sirius as part of Team MerseySTEM.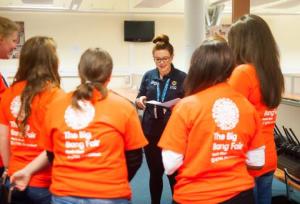 If you attended The Big Bang North West 2014 as one of our volunteers, you'll have been greeted by Zoe and she'd have been your happy helper throughout the day. Our chirpy Ms Chapman also organises all of our Ambassador applications and placements as well as working on all manner of STEM-sational marvelousness that may befall her here at STEM House.
We've some lovely surprises in store for our Communications Officer today, but first we thought we'd make her a disco-dancing diva and splatter the video all over social media (hehe) …check it out here.
Have a great day Zoe!
Follow MerseySTEM on Twitter here
Follow The Big Bang North West on Twitter here
Like MerseySTEM on Facebook
« Back To News