January 12th 2015
Medical Careers NHS Event: What Teacher's Thought…
Wow! We've had some amazing feedback from teacher's about the NHS Medical Careers Event we organised with Classroom Medics.
"Recently our Year 7 students were given an insight into different chemistry-based medical careers and pathways within the NHS through a Classroom Medics workshop funded by the RSC & facilitated by MerseySTEM.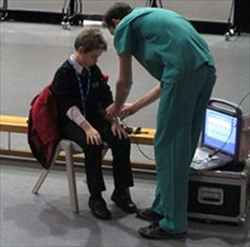 The session was extremely interesting for the students as it was delivered through a fun and interactive workshop. The presenter, Tom Warrender, who called himself a 'human guinea pig', engaged really well with the students, using humour and audience participation.
The Academy would like to thank all those involved for spending their valuable time with our students and giving them a great insight into some possible careers." [Craig Jeffries & Elaine Hardwick]
MerseySTEM would like to thank The University of Chester CE Academy and Classroom Medics for helping us create a fantastic day to remember!
Would you like us to tailor a fun, educational STEM based event for you?
Click here for more information, MerseySTEM make it happen!
THE BIG BANG NORTH WEST 2015 IS COMING!
Register your interest for The Big Bang North West 2015!
Follow MerseySTEM on Twitter here
Follow The Big Bang North West on Twitter here
Like MerseySTEM on Facebook
« Back To News