February 19th 2015
THE BIG BANG NORTH WEST 2015: BOOK NOW!
The Biggest Regional BIG BANG!?
Building on the amazing success of The Big Bang North West 2014, MerseySTEM will be returning to Aintree Racecourse on the 8th of July 2015 with a Big Bang you've never experienced before!
Our reputation is based on delivering exciting, engaging and interactive events and our motto is to 'make it happen!', so this year not only do we have the facility for up to 6000 children but we're widening the age range for this event from Key Stage 2 upwards. You wanted to bring your Primary classes and now you can! All are welcome from Key Stage 2 to Key Stage 4 and beyond.
When booking, schools and colleges can now choose if they would like to attend for the morning (9.30 – 12.00) or afternoon session (12.30 – 3.00).
Entrants for The National Science + Engineering Competition will need to book for the entire day.
PLEASE NOTE: If you have places on our reservation list, you still need to visit the site and officially book.
New events
With a wider age range and a larger capacity comes more activities and shows! We have a STEM-sational list of exhibitors to reveal, all of which have hands-on experiments and experiences for you.
As always there will be our careers fair where you can meet inspiring engineers and scientists from across the region and you'll be able to check out the entries for The National Science + Engineering Competition – judging takes place at The Big Bang North West… who will make the grand final?
We can't wait to inspire the next generation of STEM experts and show you how good 2015's event is going to be!
Click here to take a look at the new website, book your school group places and check out the exhibitors. We'll be revealing more and more activities as the event draws closer!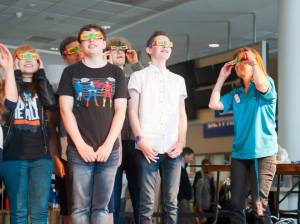 Follow MerseySTEM on Twitter here
Follow The Big Bang North West on Twitter here
Like MerseySTEM on Facebook
« Back To News