February 11th 2015
Big Bang North West 2015: The Great British Viking Quest!
STEMNET Award nominated STEM Ambassador Sarah Weldon, plans to use wearable technology and a rowing boat to bring the ocean and Vikings alive for kids worldwide.
The best part… she's created a learning platform so kids can come along for the ride AND she's going to be part of The Big Bang North West 2015!
"This summer, I'm rowing 3000 miles along the River Thames and around Great Britain, following routes taken by the Vikings 1000 years ago. The expedition will take 14 weeks, rowing up to 15 hours a day, and visiting places with a Viking connection.
Being in an ocean rowing boat will give me a fascinating perspective of Britain from the sea and an insight into what it means to be a British islander as I meet people with different regional dialects and heritage around the coast.
As well as setting Guinness World Records on this epic adventure (as yet no one has ever rowed solo around Great Britain), I'll use wearable technology and a virtual learning platform to share every whale sighting, geological fault line, and collected scientific data on things like my poo, nutritional intake, and psychological performance, with platform users, Kickstarter backers, and scientists, worldwide.
Some of the psychological tests have been provided by NASA and are used on the International Space Station to monitor the health of astronauts after space walks, so it will be really interesting to see the impacts of life on a boat."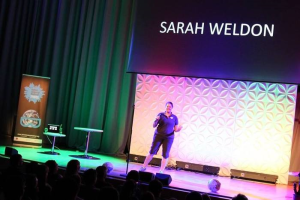 What's On the Virtual Learning Platform?
The platform is designed as an informal, fun, educational tool for 5-19 year olds, but will appeal to ANYONE of ANY age.
By backing this project, you will have access to the virtual learning platform for the Great British Viking Quest expedition and ALL FUTURE EXPEDITIONS, with exclusive, behind the scenes content and updates that won't be available anywhere else.
You'll be able to interact with Sarah and the land crew throughout the expedition, thanks to a forum for posting questions and comments. They'll even be running 'Google hangouts' and 'virtual field trips' from key locations!
Sarah Weldon truly is an inspirational woman! Click to discover more about her and back the project…
The Big Bang North West 2015 will be part of Sarah Weldon's amazing challenge as during the row we'll have a live link-up or a visit from Sarah herself! (Conditions permitting.)

THE BIG BANG NORTH WEST 2015 – CLICK TO BOOK YOUR PLACES!
Follow MerseySTEM on Twitter here
Follow The Big Bang North West on Twitter here
Like MerseySTEM on Facebook
« Back To News