May 17th 2015
The Big Bang North West 2015: As Creatives Confirmed!
We are overjoyed to announce that As Creatives will be exhibiting at The Big Bang North West 2015!
As Creatives specialise in designing and delivering creative learning programmes that make learning extraordinary. Here's what they have in store:
STEM Geodesic Dome
What connects maths, engineering, chemistry – and sport? Answer – geodesity! At the As Creatives exhibit, you'll have the chance to share your STEM passions by contributing a design to one of the 105 triangles that make up a geodesic dome. Then come back and help create the pentagons and hexagons that give the dome its structure – and piece them together as the 2 metre high structure grows and begins to dominate the space.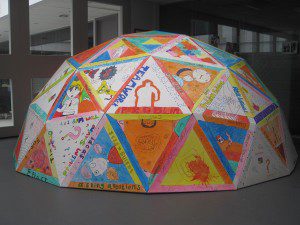 We want to make one right now!
Have you booked your school group for The Big Bang North West?
Click the link below…
THE BIG BANG NORTH WEST 2015 IS COMING – BOOK NOW!
Follow MerseySTEM on Twitter here
Follow The Big Bang North West on Twitter here
Like MerseySTEM on Facebook
« Back To News