June 11th 2015
National Science + Engineering Competition: Queens Park STEM Club
MerseySTEM's STEM Club Manager Dr Liz Hind, visited Queens Park High School to see how their National Science + Engineering Competition entries were coming along…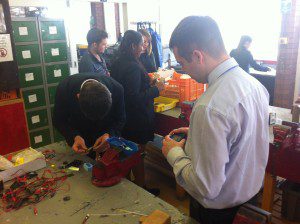 "I had a lovely time visiting their club, taking a look at their amazing entries and telling them all about The Big Bang North West – their enthusiasm was inspiring!"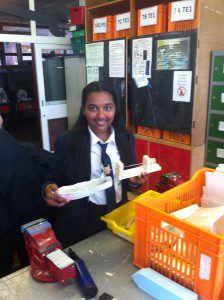 "They're entering two projects which they've been working on in their STEM Club and have been experimenting with boat design from scrap. The first working launch took place while I was there, so it was quite an honour!
They have experimented on design, waterproofing and propulsion to build their own working models and hopefully their hard work will pay off on the big day. Good luck to all."
Do you have a science or engineering project on the go in school?
There's still a few days left to enter, so don't miss out! Click here for everything you need to know about The National Science + Engineering Competition…
Would you like a STEM Ambassador to help at your STEM Club or school? They're FREE!
Is your school coming to The Big Bang North West 2015?
THE BIG BANG NORTH WEST 2015 – CLICK TO BOOK YOUR PLACES!
Follow MerseySTEM on Twitter here
Follow The Big Bang North West on Twitter here
Like MerseySTEM on Facebook
« Back To News