September 08th 2015
Educate Magazine feature MerseySTEM as award sponsor!
Wow! A HUGE thank you to Educate Magazine for their latest awards feature which highlights MerseySTEM as a sponsor.
MerseySTEM are proud to be sponsoring the Science Project of the Year Award at the 2015 Educate Awards! Click to take a look…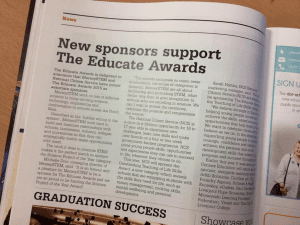 The Science Project of the Year Award recognises schools that have developed a science based project during the academic year of 2014-15 providing an opportunity to develop an innovative and effective approach to encouraging pupils to engage with science.
MerseySTEM Managing Director Michelle Dow, said: "It  is an honour and a pleasure for MerseySTEM  to be a sponsor for the Educate Awards. The awards recognise so many areas of education, the scope of categories is amazing… and now they're spreading their wings across the North West! MerseySTEM are all about facilitating and promoting STEM, what better way then to give recognition to schools who are excelling in Science."
Now in its fourth year, the awards have grown due to the volume of entries and increased demand from schools to take part and win one of the prestigious education accolades.
Kim O'Brien, executive editor of Educate Magazine, said: "Last year's Educate Awards was a huge success, we saw a big increase in not only the number of entries but the standard too; the ceremony at Liverpool Cathedral really showcased the innovation, creativity and passion that is evident throughout the Liverpool City Region."
"We've had schools outside of the Liverpool City Region express great interest and are keen to be involved in the awards, so with this in mind, we're thrilled to announce we will now accept entries from schools and colleges in the boroughs of Lancashire, West Lancashire and Cheshire West and Chester. This expansion marks an exciting time for the awards, we hope this will again raise the bar in terms of entries and make 2015's awards the best yet."
An expert panel of judges are already confirmed for this year's awards, which takes place on 20th November at Liverpool Cathedral, with more to be announced soon.
Educate Magazine – http://www.educatemagazine.com/
Educate Magazine (via Issuu) – http://issuu.com/educatemagazine/docs/educate_26_may_2015/1
Educate Awards – http://educateawards.co.uk/
The Big Bang North West 2015: A Teacher's View…
Relive The Big Bang North West 2015 in pictures…
Follow MerseySTEM on Twitter here
Follow The Big Bang North West on Twitter here
Like MerseySTEM on Facebook
« Back To News