December 17th 2015
Rainford High STEM Club fever after MerseySTEM Robotics Challenge!
Team MerseySTEM are overjoyed to hear that Rainford High Technology College have 'STEM fever' following their involvement in our Robotics Challenge!
Teacher Hazel Duffy has sent us news that after the Robotics Challenge, Rainford students requested a new STEM Club along with a Facebook group and more… all in preparation for our Vex Robotics Competition at The Big Bang North West 2016!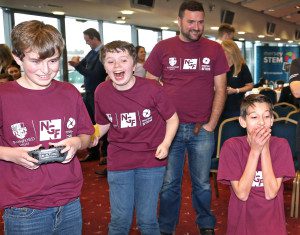 Rainford received a Vex Robotics Kit after qualifying for the Robotics Challenge Grand Final. On the big day they were focused and ready for robot wars, they even had team shirts with their school, their heat sponsor (NGF) and MerseySTEM badges!
"The students attending were not part of any clubs but have now requested that we start a STEM club as they are very eager to take part in the Vex Big Bang North West Competition. They have already got at least 6 other students in school wanting to be part of the team and have been very proactive in recruiting more. We did not have a STEM club but now thanks to Vex we do and it is one the students themselves have instigated themselves.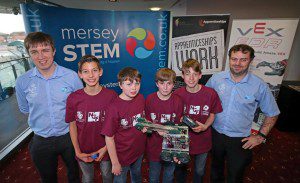 On behalf of the school I would like to say thank you for enthusing the students that attended, it is evident that these events not only engage students but also encourage their independent learning which will be passed on through the school."
 
Hazel Duffy
Rainford High Technology College
You are more than welcome Hazel!
We'll be helping Rainford with their STEM Club and wish them all the best as they train for the Vex Big Bang North West Competition. Thank you for the amazing feedback, great news!
Are you coming to the Big Bang North West 2016?
We've just made a VERY BIG ANNOUNCEMENT!
Click here to express your interest…
Follow MerseySTEM on Twitter here
Follow The Big Bang North West on Twitter here
Like MerseySTEM on Facebook
« Back To News