December 16th 2015
Turbo Tim & The Studio School at NAC Group!
JUST CALL HIM TURBO TIM!
Our Events & Engagement Manager (and self-confessed adrenalin junkie) Tim Wright, couldn't help putting himself to the test this week.
Whilst out and about on a company visit with The NAC Group, he met up with The Studio School…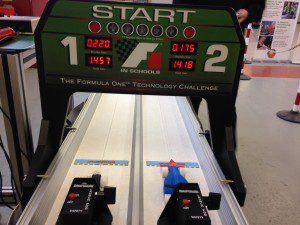 The students were racing on The NAC Group's F1 track as part of their F1 In Schools Challenge and they invited Tim to give it a try. Check out that reaction time – 0.175! It's no wonder Tim's always on the ball during our events, well done!
NAC endeavour to introduce and teach young people STEM subjects in a fun and truly engaging way – just like us.

Their programmes  help people enhance their understanding of STEM skills between the ages of 9 and 19. Through initiatives such as the F1 in Schools Challenge, Industrial Cadets and The Art of Manufacturing, they are able to make STEM relevant and exciting.
Obviously that goes for Tim too!
Follow MerseySTEM on Twitter here
Follow The Big Bang North West on Twitter here
Like MerseySTEM on Facebook
« Back To News