January 06th 2016
STEM Classroom Workshops & Teacher CPD from As Creatives
As Creatives specialise in designing and delivering creative learning programmes that make learning extraordinary! They have some fantastic STEM workshops for schools and teacher CPD courses coming up, take a look.
CLASSROOM WORKSHOPS
Geodesic Dome
What connects science, maths, engineering space – and sport? Geodesity, of course! As Creatives Geodesic Dome programmes offer students fantastic opportunities to cement their understanding of specific curriculum areas – and to celebrate and share their learning in a unique, eye-catching and inspiring way.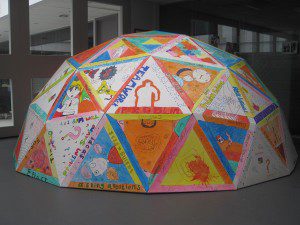 After recalling their learning in a creative manner, students will work to a template in using it to illustrate the 105 triangular panels that make up a Geodesic Dome. They'll then be guided through a process that allows them to fit the triangles together to make hexagons and pentagons – and then to piece these together to construct the 2m high structure.
For more information (or to book your workshop) please email Jenny Liggins at [email protected] or call 0151 708 8886.
Our attending schools created a geodesic dome at The Big Bang North West 2015, are you coming this year? Express your interest now!
Outdoor Maths
Outdoor spaces provide wonderful opportunities to explore how numbers and shapes create both the built and natural worlds. So the engaging (and very active!) outdoor maths workshops, which feature a range of tried and tested al fresco activities, bring home the relevance of numeracy to our everyday lives – and provide lots of scope for problem solving too! As Creatives have developed low-input exercises for all year groups, from Nursery to Year 6, including Investigative Maths Bingo (Outdoors!), Mathematical Drawings, Outdoor Maths Poetry, DIY Maths Trails and the Big Maths Game. One of the best things about all of these activities is that they're easy to replicate and adapt – meaning that teachers have a whole new bank of resources to play with!
For more information about Outdoor Learning programmes please contact Jo Stokes, [email protected] or call 0151 708 8886.
TEACHER CPD
Courses coming up include Creative Approaches to Maths and Creativity & Science, visit As Creatives website for further information here.
THE BIG BANG NORTH WEST 2016 IS COMING!
Click here to register your interest…
YOU DON'T WANT YOUR SCHOOL TO MISS THIS!
Follow MerseySTEM on Twitter here
Follow The Big Bang North West on Twitter here
Like MerseySTEM on Facebook
« Back To News