February 21st 2016
MerseySTEM sponsor Match for the Day: Over £10,000 raised for Marie Curie!
They did it! The Match for the Day fundraising event was an amazing success raising over £10,000 so far for Marie Curie …and there's still time to donate!
MerseySTEM were proud to be a returning sponsor for the 24 hour 5-a-side football match. Our Events Manager Tim Wright valiantly joined the Match for the Day teams as they kicked, scored, tackled and dribbled their way through a day of non-stop football.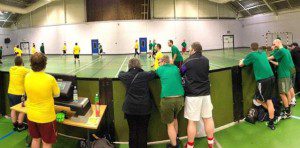 Thankfully the participants and the ball lasted the distance… just!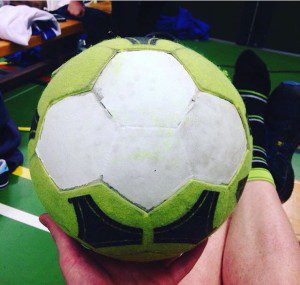 Match for the Day is an annual charity event created by two local brothers in honour of their mother. The 24 hour football game has taken place each year since 2014.
Paul Hughes, Performance Lead at Liverpool Community Health NHS Trust explained: "The first Match For The Day challenge was completed in 2014; it was inspired by my Mum who was battling cancer. Sadly my mum passed away last year but she knew we were planning another event. The care she received from Marie Curie was amazing and made such a difference to her and the rest of the family so she asked that we donate the money to this organisation."
"The challenge is going to be really tough! It was much tougher than we thought it would be last time but it's for such a worthwhile cause.  My brother Dave and I would like to say a huge thanks to family, friends and LCH colleagues for getting involved as well as our sponsors BE Property, Hitch Marketing, Mersey STEM, West Kirby Physiotherapy and Liverpool John Moores University for their support so far. The first time we undertook this challenge we raised £15,000 for two cancer charities; and this time we are hoping to raise more."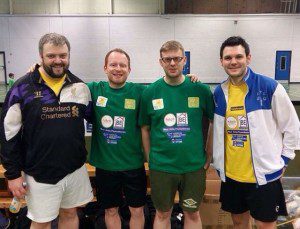 The event consisted of 2 core squads who played for a total of 24 hours. Other players were encouraged to come along and take part for a set period of time. Football legend Kevin Sheedy kicked off the event and signed shirts for the charity auction along with numerous others. Entertainment included live music, face painting, a tombola, cakes, children's games and a surprise Disney character visit.
A fantastic family day was had by all. An unbelievable effort from the teams for an amazing cause – congratulations from Team MerseySTEM!
THE BIG BANG NORTH WEST 2016 IS COMING:
Don't let your school miss out!
Click here to book…
Follow MerseySTEM on Twitter here
Follow The Big Bang North West on Twitter here
Like MerseySTEM on Facebook
« Back To News