February 28th 2016
MerseySTEM Special Edition Robotics Challenge – Congratulations Neston High!
An amazing day was had by all at MerseySTEM's 'Special Edition' Robotics Challenge. It was a fantastic way to celebrate Global Day of the Engineer and all of our young competitors proved that they truly are engineers of the future – congratulations to our winners Neston High School!
On the 24th of February MerseySTEM held their 'Special Edition' Robotics Challenge at Neston High School.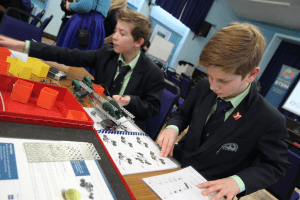 Along with their own team, host School Neston High welcomed 5 local schools to the competition: Catholic High Chester, Upton by Chester, Christleton, Bishop Heber High School & Bishop's Bluecoat.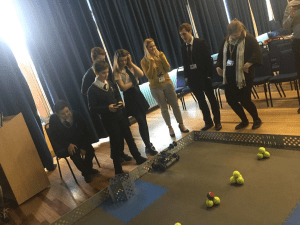 With help from Team MerseySTEM and STEM Ambassadors from Sellafield, our teams quickly got to grips with our Protobot robotics kits from Vex Robotics. Everyone was ready for a day of pulverized processors, ruptured relays and mangled motors – even the teachers were as excited as we were!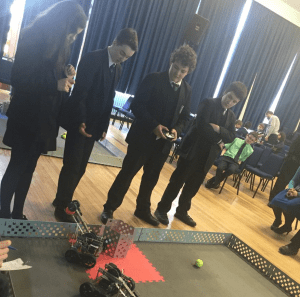 After numerous nail-biting clashes (and a few crashes) the final came down to Bishop Heber versus Neston High School and what a battle it was!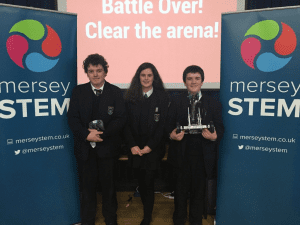 @MerseySTEM once again putting the fun into fundamentally great education for tomorrow's engineers! – ICE North West
MerseySTEM Managing Director Michelle Dow said, "I love our Robot Challenges, it's great that we don't see our competitors faces for most of the morning as they are heads down, focused on building the best robot on the day. Questions come thick and fast: What do I do with this? How does this work? Can this be my own design? If you ask a 14 year old what advanced manufacturing or engineering is, usually the answer is 'Er dunno – a mechanic?"
"The robot day gives us the opportunity to change perceptions, challenge stereotypes, promote teamwork and provide careers advice to students using real role-models from our city. Robot Wars are nothing new, but whatever you say – robots are cool! All of our competitors worked so well together today and most importantly they had fun, a huge well done to them all and congratulations to our winners!"

What a great way to engage kids on #GlobalEngineerDay!! – Discover E (Founder of Global Day of the Engineer)
Would you like to enrich your STEM provision?
Do you have any collapsed timetable days, masterclass events, activities days, STEM fairs, events, anything for Science Week or a science day/week of your own coming up? We can help! Click here…
THE BIG BANG NORTH WEST 2016 IS COMING:
Don't let your school miss out!
Click here to book…
Follow MerseySTEM on Twitter here
Follow The Big Bang North West on Twitter here
Like MerseySTEM on Facebook
« Back To News