February 26th 2016
You're Invited! UKRC: FREE Schools Science Taster Session
Your school is invited to attend a FREE Schools Science taster session at the United Kingdom Radiological Congress (UKRC). (Includes UKRO Congress running in parallel for the first time)
To be held at the ACC, Liverpool, on Wednesday 8 June 2016 14:00-16:00pm
ACC Liverpool. Kings Dock, Liverpool Waterfront, Liverpool, Merseyside, L3 4FP

Following the great success and excellent feedback from 2015, we are delighted to once again extend an invitation to secondary school students, ages 13-14, from the Liverpool area to attend a FREE schools science taster session – to enable students to experience and learn about the basics of radiological science.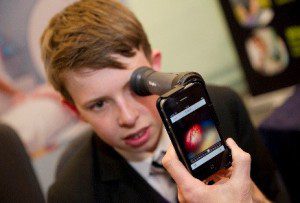 Benefits of attending Exciting, interactive and hands-on sessions for young people to experience and learn about the basics of radiological science. Featuring demonstrations from the 'Big Bang' Show and much more, it is set to be a highly interactive afternoon, to enthuse students to increase their interest in science and specifically in medical applications. We also provide a learning and careers pack, useful to both teachers and students to take away.
Don't just take our word for it…. View photos and see our short video to see what students and teachers who previously attended in Liverpool thought of the taster session!
Programme of Activities 

13:30-14:00   Arrival & welcome to students

14:00-14:40 Interactive radiation lecture
A unique and interactive lecture from Professor Peter Cole, Radiation Protection Adviser on radiation, assisted by Homer Simpson, stress balls, torches and sheets! Supported by SRP and ROC

14:45 -15:45  Demonstrations, activities and competition session
"Big Bang" style table top demonstrations of approximately 15 minutes.
16:00  Thanks and depart
Register your interest as soon as possible as places are limited. Please register your interest to Alison Christoffer [email protected]
Please state:
1) School name, a main contact name and email address.
2) How many students you would like to bring
Your places will be confirmed as soon as possible. 
Terms: Final confirmations of places and numbers per school are confirmed by the Conference Organisers, Profile Productions by email and places per school may be limited. We may also ask to conduct interviews or take photograph therefore we will require parental agreements to be in place prior to the event.
THE BIG BANG NORTH WEST 2016 IS COMING:
Don't let your school miss out!
Click here to book…
Follow MerseySTEM on Twitter here
Follow The Big Bang North West on Twitter here
Like MerseySTEM on Facebook
« Back To News