February 02nd 2016
MERSEYSTEM TWITTER: LIVE COVERAGE OF TIM PEAKE'S Q&A TODAY!
British astronaut Tim Peake is preparing to hold a live Q&A session today with schoolchildren at Liverpool's World Museum while on-board the International Space Station (ISS). You can follow our LIVE coverage of the event on Twitter!
The World Museum is the only venue in the UK to have been selected for the in-flight call with Peake with the spaceman calling in for a session hosted by presenter Kevin Fong.
More than 300 schoolchildren from across the UK are attending, while more than 10,000 school teachers worldwide have signed up to a live broadcast. An amazing moment for children taking part in the Blast Off event organised by teaching network TES, the UK Space Agency and ESA.
The museum will also be hosting a full day of activities with hands-on experiences with Lego rover robots and the chance to 'train like an astronaut' with sports scientists from LJMU.
Follow our LIVE coverage of the day on Twitter here…
UPDATE: Mersey STEM were honoured to have our Tim Peake Q & A coverage shared by The UK Space Agency before we went LIVE! We were the only one too. Thank you to them – amazing!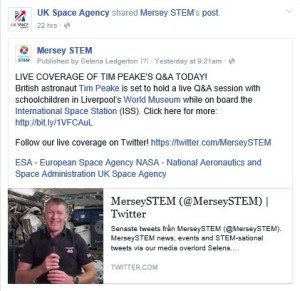 « Back To News