May 31st 2016
Liverpool Echo: MerseySTEM & The Edge IFB2016 Robot Challenge!
On the 15th June 2016, MerseySTEM will be facilitating our latest robotics challenge funded by ChargePoint Technology as part of The Edge, official fringe festival for the International Festival for Business. The event will take place in the Innovation Hub at Alder Hey Children's Hospital.
We are overjoyed to see the event spotlighted in today's Liverpool Echo!
Click the image to take a look or visit Liverpool Echo online here…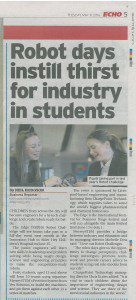 MerseySTEM robotics challenges bring teams of students together from local schools to take part in a full-day event. Teams build their robots in the morning using the Protobot System from Vex Robotics and pit them against each other in the afternoon in a series of matches. All teams are supported by MerseySTEM, collaborating professionals and STEM Ambassadors throughout.
Robotics challenges enable students to understand a variety of design, science and engineering principles and develop leadership and problem solving skills. The events aim to inspire and excite students' interest in robotics and to demonstrate the practical application of mathematics and engineering.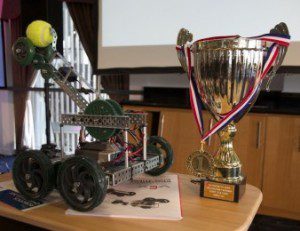 We can't wait for the 15th of June!
You can find out more about the event here…

Images by Gareth Jones Photography & MerseySTEM – ©MerseySTEM
CLICK TO BOOK YOUR SCHOOL GROUP…
YOU DON'T WANT YOUR SCHOOL TO MISS THIS!
« Back To News