July 06th 2016
OFFICIAL GALLERY: Thousands of children inspired at The Big Bang North West 2016!
On the 5th of July 2016, thousands of local school children flocked to The Big Bang North West at The Exhibition Centre Liverpool and the region erupted with ingenuity and innovation!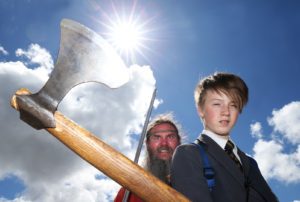 Hundreds of North West schools attended, grabbing their chance to hop on a Viking Longboat, race Usain Bolt and experience virtual reality, mad science, robots, coding, forensics, medical magic and so much more.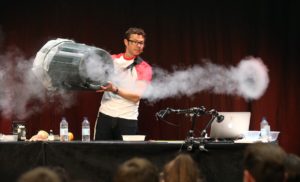 CBBC's Stefan Gates performed some explosive science! If the flaming whoosh bottle wasn't enough, the Gastronaut had vomit & strawberry scented smoke rings on the menu!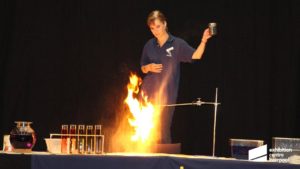 Science 2 U wowed the crowd with their pop-tastic cans, fire fountains and a dry ice extravaganza, while Medical Maverick Tom Warrender performed his 'Human Guinea Pig' show. Attendees were in awe of his 'how to scan your retina with an iPhone' demonstration and more!
The Big Bang North West is a STEM celebration for school children and part of a programme led by EngineeringUK. Big Bang events enable young people to discover the exciting and rewarding STEM based careers available in their local area via fun, hands-on activities.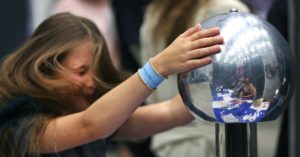 In addition the event hosted the semi-final of The Big Bang UK Young Scientists & Engineers Competition. An exciting opportunity for the thinkers of the future to show off their ideas & inventions and be commended by leaders in the field.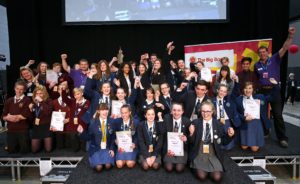 With a plethora of prodigious pupil projects, the event showcased young innovation at it's best!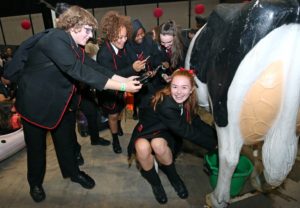 MerseySTEM Managing Director, Michelle Dow said: "The Big Bang North West was one amazing day of inspiration, you really had to be there to feel the electric atmosphere of thousands of excited young people.
The Big Bang North West was also sponsored and supported by ScottishPower, Merseyside Network for Collaborative Outreach, Health Education England (North West), Carillion Kier (Joint Venture), Unilever, Sellafield, Alstom, GETRAG Ford & Air Products.
What an inspirational event to be a part of!
OFFICIAL GALLERY: Flick through the images below to relive The Big Bang North West!
© All About STEM Big Bang North West
Courtesy of MerseySTEM & Gareth Jones – http://www.garethjonesphotographer.com/
Official Gallery: Thousands of children inspired at The Big Bang North West 2016!
Express your interest for The Big Bang North West 2017!
Big Bang North West 2016: The Movie
The Big Bang North West 2016 Gallery: Behind the Scenes
The Big Bang North West 2016 Gallery: BBNW LIVE TWITTER 'TRENDING' NATIONALLY!
Headline Sponsors AstraZeneca 'Heat Up' The Big Bang North West
Big Bang UK Young Scientists & Engineers Competition: Winners & Awards
The Big Bang North West 2016: Booming Online!
The Big Bang North West 2016: Your Amazing Feedback!
The Big Bang North West 2016: A Teacher's View

« Back To News