October 06th 2017
ACTIVITIES REVEALED! Book now for the Liverpool City Region Health Skills Show!
On the 28th of November 2017 the Liverpool City Region Health Skills Show at The Titanic Hotel, sponsored by The Apprenticeship Hub & Shaping Futures & in partnership with Merseyside Health Sector Career and Engagement Hub, will take place for the very first time! All About STEM are proud to be making this happen as the event delivery partner.
Approximately 1000 students from local schools from across the City Region will attend this FREE one day, one-off event showcasing the healthcare sector & all of the exciting opportunities within it.
The show floor will be packed with exhibitors with interactive hands-on activities from healthcare professionals including Merseyside Health Sector Career and Engagement Hub stakeholders, Shaping Futures partner Universities & Colleges, plus The Apprenticeship Hub associate Training Providers. All highlighting & offering information about career pathways in the health care sector, plus a jaw-dropping show from the Medical Mavericks – prepare to be amazed!
Have you booked your school to attend? IT'S FREE!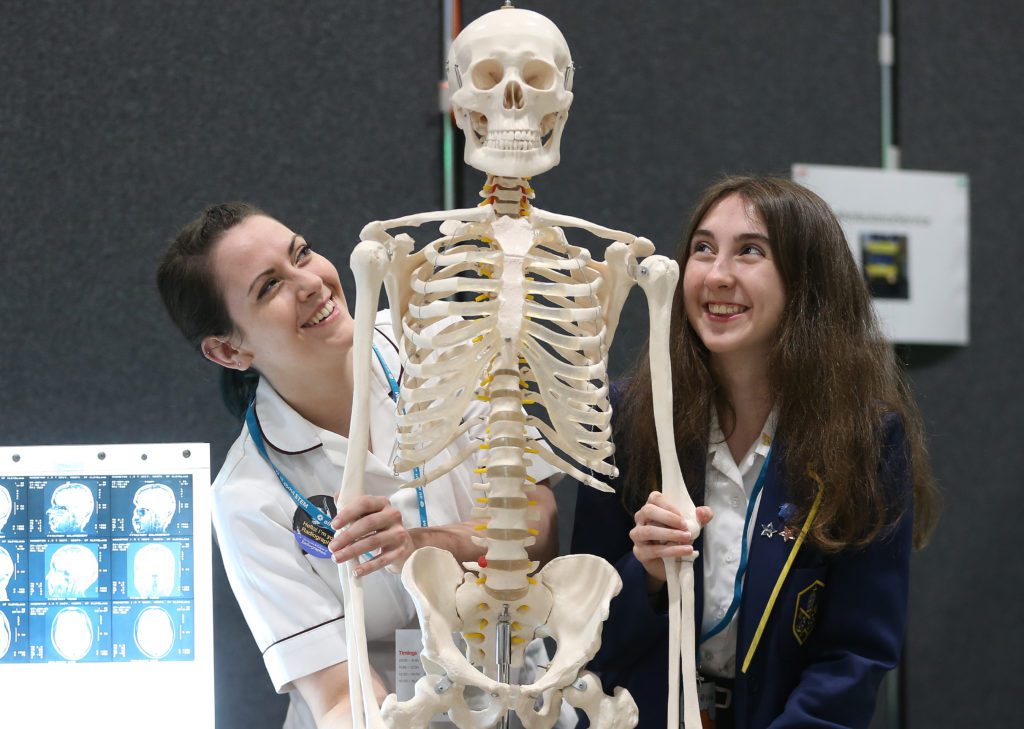 Date: Tuesday 28th November
Venue: The Titanic Hotel
Click here for full details and booking…
MORNING SESSIONS ARE NOW FULLY BOOKED, BOOK NOW FOR AN AFTERNOON SESSION!
THE ACTIVITIES
Shaping Futures
University of Liverpool, Faculty of Health and Life Sciences
The amazing human body!
A variety of hands-on activities, looking at different aspects of being human.
Superhero Keyrings –  Students can find out about DNA, what it is and how changes in DNA can lead to different conditions. Make your own superhero DNA keyring!
Brilliant Brains – Explore what brains are and how they evolved, discover the psychology behind some of our everyday behaviours such as what we eat.
Students will also be able to find out about a career in research, talk to some real life researchers and find out about routes in to research.
University of Liverpool, Faculty of Health and Life Sciences
Structure, location and function of the heart using a model heart.
How the heart changes in disease.
Blood pressure and heart rate with a range of digital stethoscopes and blood pressure.
Change of heart rate with different activities – stress, relaxation, running.
Why changes in heart rate occur.
Routes to a career in research: There are many different branches in cardiovascular research, from studying cardiac proteins to clinical trials!
St Helens College 
Gait Analysis Tests – assessing the way you walk and run.
Hand washing activity – See what bacteria is left on your hands, even after washing!
First aid – Demonstrations and challenges.
Dental – Have a go at mixing dental mould and get an insight into the importance of dentistry in healthcare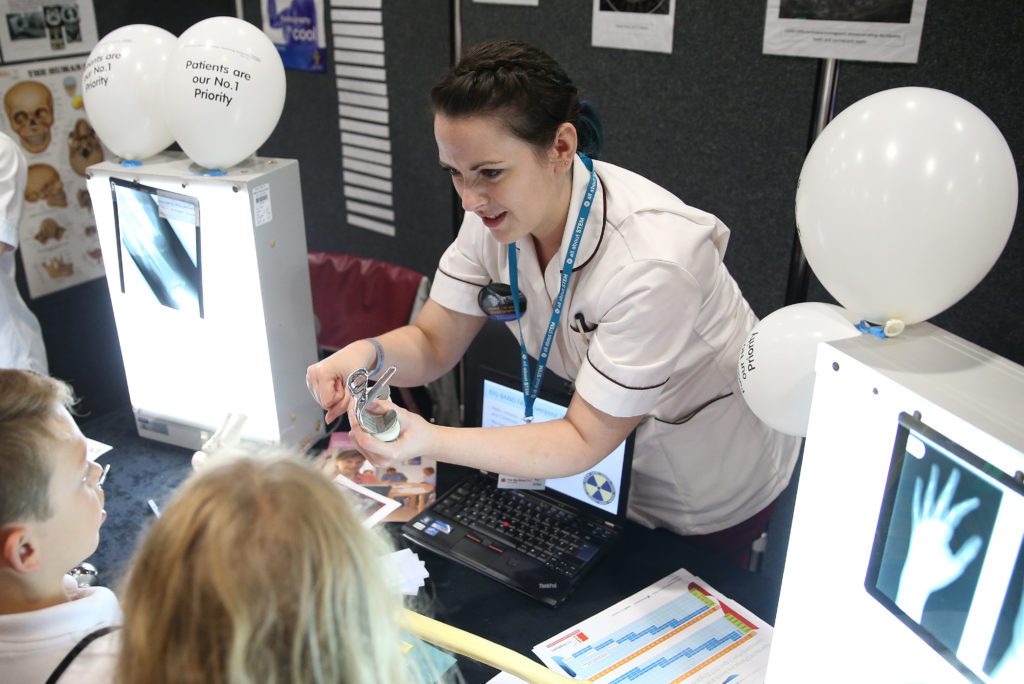 University of Liverpool, Faculty of Health and Life Sciences
HIV Pharmacology Group
Discover how exciting and rewarding a career in pharmacology can be.
Interactive activities related to our new clinical trial "DolPHIN 2".
(The trial is all about reducing mother to child transmission of HIV in sub-saharan Africa, and a range of interactive features at our stand will work to convey the importance of this work and to inspire participants to become the drug discoverers of the future.)
An interactive quiz about the history of HIV and the differences between HIV care in the UK and sub-saharan Africa.
Be a clinician! Use our group's interactive online prescribing support resources and apps to pick the best drugs for a range of patients.
A 'pathway to pharmacology' guidance session, discover the multiple avenues which a career in this field can take you.
An opportunity to take part in a quiz and win a prize following the event.
Hugh Baird College
Information about our health related courses.
A showcase of the plans for our new £3.9m Health Engagement and Training Hub.
Dedicated to the training and development of a wide range of health professionals, the much needed facility will deliver training for nurses, A&E technicians, paramedics, mental health nurses and dementia specialists to name but a few. The Health Engagement and Training Hub will also be home to our newly established Nursing Cadet programme for 16-18 year olds and our innovative Pre- Nursing Cadet programme aimed at young people aged 14 with a clear vision and desire for a career in the health sector
University of Liverpool
School of Health Sciences – Careers in Health
A selection of nursing and orthoptic activities
Riverside and Cronton College
"The exciting and innovative courses in Health and Social Care and Nursing at Cronton Sixth Form and Riverside College provide students with invaluable experience in a variety of different healthcare settings allowing them to develop professional skills to a high standard.
An integral part of the course is the completion of a range of placements which offer the opportunity for the student to develop vital practical skills and relate theory to practice.  At Riverside and Cronton Sixth Form students and our innovative partnerships with the NHS and Community Care (CIC) offers students wide ranging experiences and skills in settings including hospital, mental health care settings, care homes, SEN schools and social work agencies.
Come along to our stand and meet some of our current Nursing Cadets who will be demonstrating skills that they have learnt so far on their course!"
Merseyside Health Sector Career & Engagement Hub
NHS Blood & Transplant Organ Donation
Giant operation donation game
Raising awareness around organ donation and the organ donation register
Careers as specialist nurse in organ donation
St Helens & Knowsley NHS Hospital Trust
Accident & Emergency Department
Decontamination suit
Have a go! – Collars, slings, plasters
Use of SIM Man to demonstrate bloods, airways etc.
Alder Hey NHS Foundation Trust
Infection Control, Nursing PEFs, Ophthalmology, Theatre Staff, and HR
Ophthalmology – Interactive equipment & information regarding ophthalmology careers
Radiology
Theatres – Information about careers, example pacemakers, child gowns and equipment
Infection Control – Test your hands! Hand hygiene lab & information regarding infection control
Royal College of General Practitioners – Mersey Faculty
Lots of freebies, games and puzzles!
Come along and have a chat to find out more about General Practice.
What is General Practive? How do I become a GP? What difference can I make?
Informatics Merseyside
An insight into the careers available within Information Management and Technology (IM&T), within the NHS, acting as a key enabler to patient care.
Literature on various areas of the IM&T within the NHS
Recent developments showcase!
Apprentices who now have a career – you could too!
100,000 Genomes Project / NWCGMC Liverpool Women's Hospital
'Tasting' experiments with lab technicians
Bracelet making
Quizzes and prizes!
Wirral University Teaching Hospital
Hands on activities relating to careers and opportunities within the Health Sector.
Information, advice and guidance and apprenticeship opportunities within the trust.
More to come…
Mersey Care NHS Foundation Trust
Mood board
Self-esteem reflective exercise
Mindfulness activity
Quiz sheets
Liverpool Community Health NHS Trust
Quiz – Who is who?
LCH freebies!
Examples of modified household items
North West Ambulance Service NHS Trust
Practical activity – Learn Basic Life Support!
Meet the staff
Careers information advice and guidance
Pharmacy Department – Whiston Hospital
Information video
Preparation of blister packs
Using antiseptic, gauntlet gloves, measuring
Identifying errors in patient medication
St Helens & Knowsley Teaching Hospitals Operating Theatre Department
Laparoscopic surgery simulators
Harmonic Scalpel Machines
Intubating Head for Anaesthesia
Orthopaedic Fracture Fixation Simulation
Gowning & Gloving for surgery demonstration/participation
Careers within the operating theatre department and the routes in which they can be accessed
We have more fantastic activities to reveal, book your school places now!
If you have any questions then don't hesitate to get in touch with [email protected] or call 0151 909 4812
(Funding may be available towards transport, further details available on request.)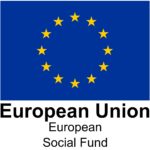 Liverpool City Region Apprenticeship Hub are ESF funded.
Images © All About STEM / Big Bang North West – Photographer: Gareth Jones

« Back To News