September 13th 2018
LIVE Online Event & Resources: Celebrate Roald Dahl Day!
It's Roald Dahl Day!
Roald Dahl Day celebrates and commemorates the wonderful work of Roald Dahl, his writing, characters and stories.
To help you get involved we have a list of activities as marvellous as George's medicine!
There is also a link to an extra special LIVE online event for schools, featuring comedian and author Adrian Edmondson!
Take a look… you'll find science themed resources, literacy, art and more.
Official Roald Dahl Day FREE Party Pack
RoaldDahl.com have partnered with Pritt, to make their Roald Dahl Day Party Pack bigger and better than ever! It's full of everything from free resources and lesson plans through to invitations and activities galore.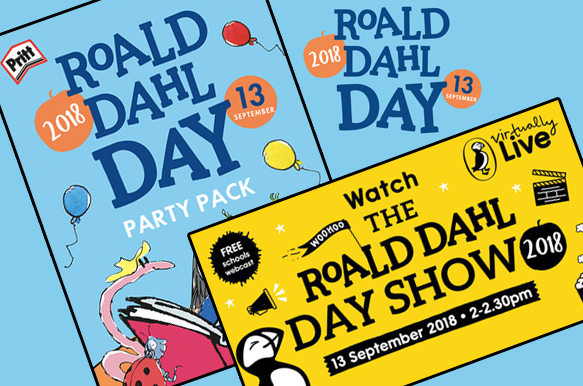 Roald Dahl Day Show – Free School Webcast
Tune in with thousands of schools around the world for an extraordinary lesson!
An all-star line up, including author Adrian Edmondson, will be sharing their creative writing ideas inspired by Roald Dahl. There'll also be a visit to London's Natural History Museum, to meet the real insects from James and the Giant Peach. Don't forget your pencils and paper for the draw-along!
Thursday 13 September 2018 2–2.30pm GM
STEM Learning: Roald Dahl Day – STEM Lessons
Roald Dahl's stories have inspired generations of children, filled with extraordinary ideas, whimsical worlds and unbelievable inventions.
The characters we meet face challenges in which they need creativity, imagination and perseverance to solve – skills we'd love to nurture in the children we teach.
Charlie, George, Matilda, James and Danny all find themselves in situations where they have to use their intelligence and imagination to overcome problems, which can lend themselves so fantastically to STEM lessons.
Why not try some of these 'whizzpopping' ideas?
Roald Dahl Day: CREST Activities
In the spirit of George's Marvellous Medicine, why not try a CREST chemistry activity?
Your children can learn, experiment & have fun!
View the activities & start running CREST today
TES: Roald Dahl Teaching Resources
TES has a fantastic library of FREE Roald Dahl teaching ideas in a range of subjects.
'See what happens when a bunch of non-engineers draw inspiration from Willy Wonka and try to make a construction out of sweets.' Edible STEM!
And finally…
If you're here collecting these resources, congratulations on being a Miss (or Mr) Honey and not a Miss (or Mr) Trunchbull – you rock!
The Big Bang North West 2018: 7000 school children celebrate STEM!
Metro Mayor Opens Big Bang Competition Awards Ceremony – Winners Announced!
Big Bang North West & AstraZeneca celebrate 5 years of STEM inspiration for schools!
The Big Bang North West 2018: Your AMAZING Feedback!
The Big Bang North West 2018: Official Gallery
The Big Bang North West 2018: LIVE Twitter Gallery
The Big Bang North West 2018: Big Bang UK Competition Projects
The Big Bang North West 2018: Behind the Scenes
Follow All About STEM on Twitter here
Like All About STEM on Facebook
Follow The Big Bang North West on Twitter here
Like The Big Bang North West on Facebook
« Back To News