September 11th 2018
The Big Assembly: Engineering Careers Webinar
The Biggest Careers Webinar is taking an Engineering Spin!
This November, the Big Assembly has an engineering spin to help young people take their ideas, passions and dreams and turn them into engineering careers.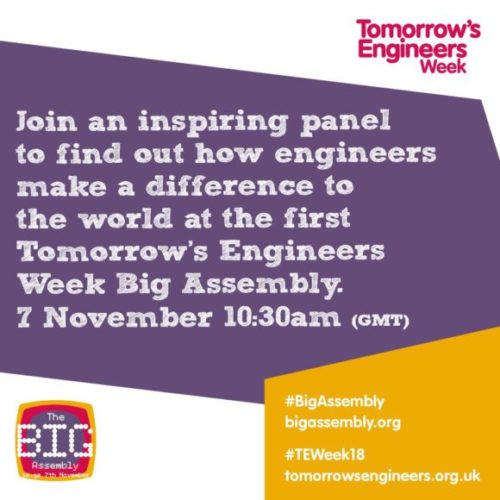 Tomorrow's Engineers Week: Big Assembly is a live video stream to thousands of students across the UK wanting to find out how engineering impacts on the issues they care about, such as saving the environment, animal welfare, staying safe, health and entertainment.
Brought to you during Tomorrow's Engineers Week (#TEWEEK18) (5th– 9th November 2018), the first industry focussed Big Assembly aims to get thousands of people online at the same time to learn about how the engineering industry affects them.
Schools, young people, parents, careers advisors and employers from across the nation are invited at 10.30am, on 7th November 2018 to take part in Tomorrow's Engineers Week (#TEWEEK18).
The Big Bang North West 2018: 7000 school children celebrate STEM!
Metro Mayor Opens Big Bang Competition Awards Ceremony – Winners Announced!
Big Bang North West & AstraZeneca celebrate 5 years of STEM inspiration for schools!
The Big Bang North West 2018: Your AMAZING Feedback!
The Big Bang North West 2018: Official Gallery
The Big Bang North West 2018: LIVE Twitter Gallery
The Big Bang North West 2018: Big Bang UK Competition Projects
The Big Bang North West 2018: Behind the Scenes
Follow All About STEM on Twitter here
Like All About STEM on Facebook
Follow The Big Bang North West on Twitter here
Like The Big Bang North West on Facebook
« Back To News