September 09th 2019
Roald Dahl Day 2019: CREST Project Ideas
Roald Dahl Day takes place on the 13th of September to celebrate and commemorate the wonderful work of Roald Dahl, his writing, characters and stories.
In the spirit of Roald's amazing story, George & his marvellous medicine, why not try a CREST chemistry activity on the big day? Your class can learn, experiment, investigate and have fun!
Take a look at some of the example activities below…
It's easy, choose an award level and start running CREST today!
PRIMARY
STAR
Perfect for 5-7 year olds who are starting their STEM journey. Inspire primary-aged students with short, hands-on activities that challenge them to explore the world around them.
Brilliant Bubbles
Teabag Troubles
Muddy Mess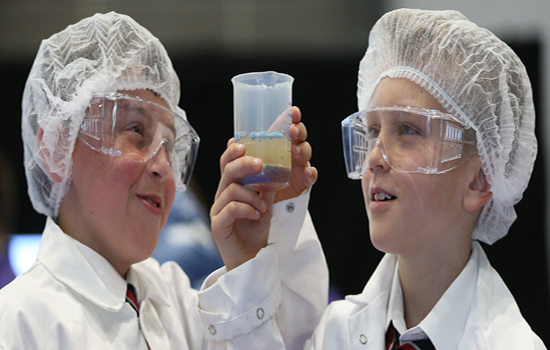 SUPERSTAR 
Most suitable for upper primary students who are looking for a challenge.
A Sticky Problem
Get Set Jellies
Testing Tea
Investigating Ink
Testing Toothpaste
Yummy Yoghurt
Sneeze Zone is a fantastic lead project if you're going to challenge your students to come up with their own medicine recipes. You can find this resource in the NEW DNA & The World Around You booklet.
Inspire your students – Run CREST Awards in school
BRONZE
An introduction to STEM project work for 11-14 year olds working in teams. Empower your students to run their own investigation from start to finish – let them run the project they want to do!
Bath Bomb Challenge
Make Your Own Fizzy Drink
Make Your Own Toothpaste
What's in a Food?

SILVER
A challenge for your 14-16 year old students by running their own STEM projects in teams or individually.
Investigate the Fizz in Fizzy Drinks
Testing Toothpastes
Using Chromatography
How Does Cooking Change Pasta?
The Ultimate Pizza Box
GOLD
Stretch your 16-19 year old students with a long-term, open-ended project ideal for enhancing their UCAS applications.
Investigating Vitamins
The Perfect Lipstick Colour
Fruit Juice or Fizzy Drinks?
Everything is Brighter After a Cup of Tea

PRIMARY & SECONDARY
DISCOVERY
A one-day STEM project perfect for challenging your 11-14 year old students. Develop your students' communication, problem solving and teamwork skills by addressing a real-world challenge over the course of a day.
It's easy: choose an award level and start running CREST today!
« Back To News