April 23rd 2020
STEM Ambassadors: Lockdown Activities
We understand that our STEM Ambassadors can't volunteer in the usual ways at this time. Many will be unable to contribute while juggling working from home and caring responsibilities. However, for others, there may be time to fill, so we've put together a list of ways you may like to get involved.
STEM Ambassador Spotlights
Whilst you can't visit schools or take part in any employer events at the moment, everyone can still help inform and inspire our local young people by completing one of our STEM Ambassador Spotlights.
These volunteer profiles highlight the work of our STEM Ambassadors, helping to open the eyes of young people to the potential career opportunities that exist in our region.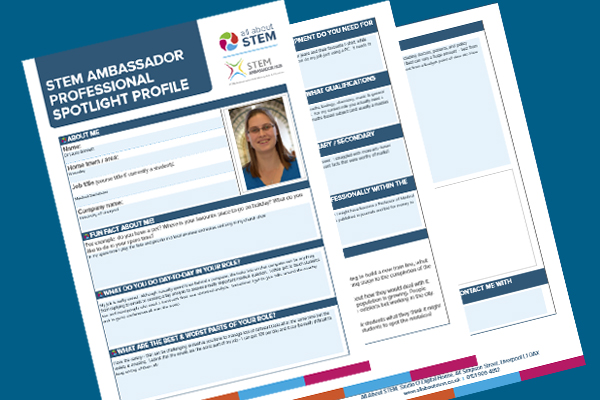 You can download a STEM Ambassador Spotlight profile from our All About STEM website, complete it with information about yourself, add a learner challenge or activity and send it back to us. We'll then feature you on our website, enabling teachers and students to get an insight into your company and job role.
Visit our website to view some existing Spotlights and to download the template for your own use.
You can also record your completion of the Spotlight as a STEM Ambassador activity. Log in to your STEM Ambassador account and then view the activity request.
Keep it in the family…
If you're working from home and also over-seeing your own child's home-learning, why not go through your STEM Spotlight profile with them? You can then record this as a separate STEM activity! STEM Inspiration starts at home!
STEM Activity or Career Profile Videos
Another great remote STEM Ambassador activity, for those of you comfortable in front of a camera, is to film a short 'talking head' video, either talking about yourself and your career or something related to the sector you work in, or demonstrating a quick STEM Activity related to your job.
If you've not seen her yet, check out Holly Ellis, aka 'The Scouse Scientist' for some inspiration.
The recording doesn't need to be super-slick – just recorded on your phone would be fine. If you send them to [email protected], we'll feature them on our website and share them via our social media channels, helping to inform and inspire our local young people about the range of fascinating careers available in the region.
You could use the STEM Ambassador Spotlight profile, available on our website, as a starter for some ideas about what to talk about, but you can make your video as individual as you like.
You can also record this as a STEM Ambassador activity if you log in to your STEM Ambassador account, view the activity request and Express an Interest.
Online Content for Home-Learning
If you're supporting your child's home-learning, you may find that their school has provided plenty to keep them busy. However, if you're looking for some extra ideas, there's tons out there!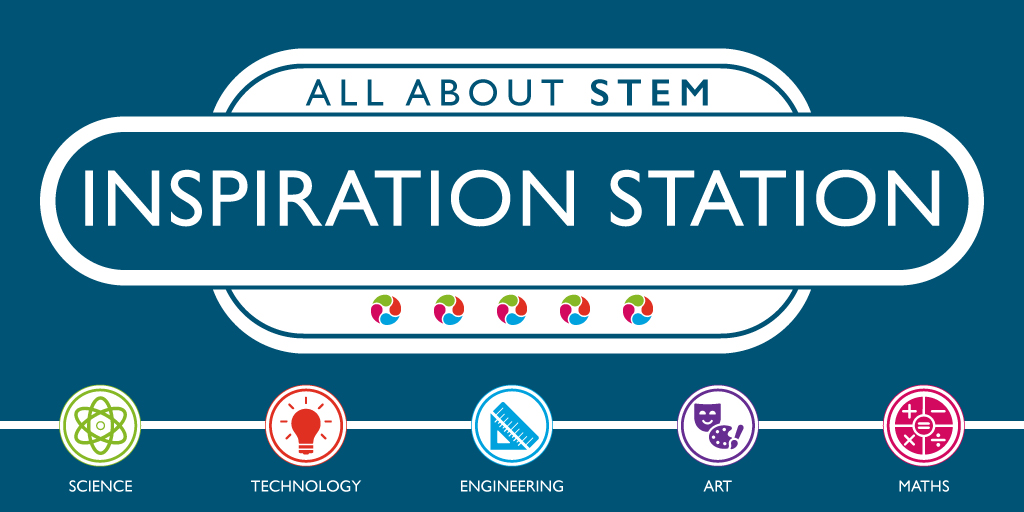 We suggest checking out the following:
All About STEM's 'Inspiration Station'
STEM Learning's resources for home-learning
STEM Ambassador Inspiration Awards
The annual STEM Inspiration Awards nomination deadline has been extended until 27 September. We'd love to see lots of our volunteers and their companies represented and so, if you find you have a little bit of time available, we'd be delighted if you were able to submit a nomination for yourself, your company or someone you know. Let's see Merseyside and Cheshire celebrated at the House of Lords in November!
The award categories are as follows:
Inspirational STEM Employer
Outstanding STEM Club
Outstanding Contribution to Widening Participation, Diversity and Inclusion in STEM
Inspiring STEM Technician
Outstanding STEM Ambassador
Outstanding New STEM Ambassador
Further guidance and application forms are available here.
STEM Ambassador App & Managing Your Account
Some of you will be finding you're busier than ever during the lockdown but for others of you, now will be a great time to tidy up your STEM Ambassador profile.
Why not log-in and check the following:

Complete your Biography – Click 'profile' on the left-hand side of the screen and select the tab 'About Me'. Provide a brief outline of your career path and what you can offer the programme.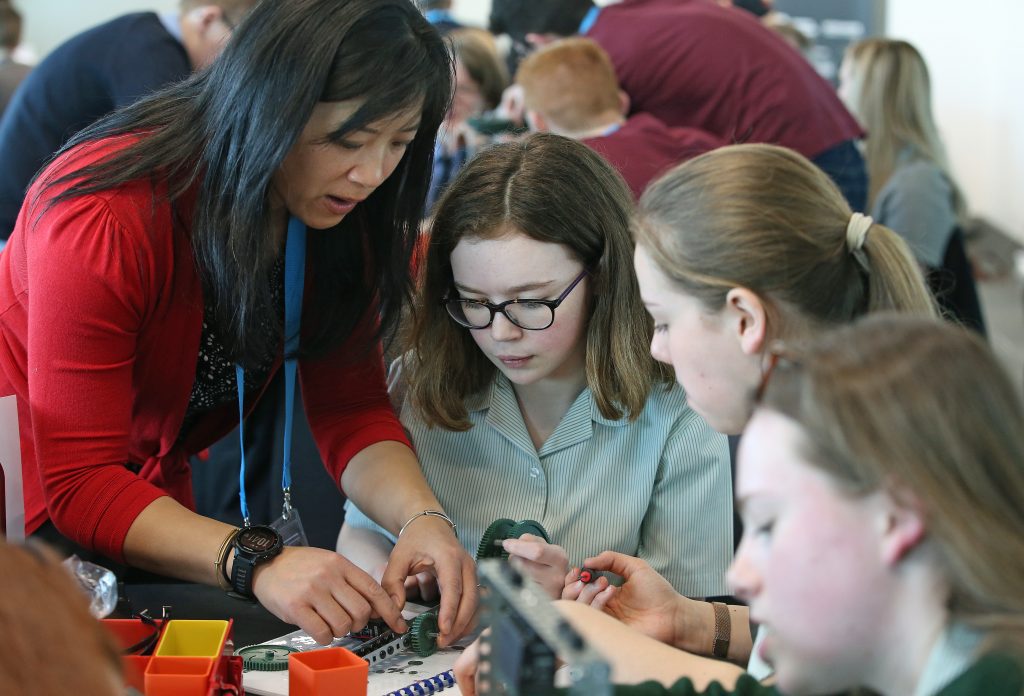 Check you've added a photograph – this enables us to order your ID card so let us know if you action this. Email [email protected]
Check all your activities are recorded. Click the 'Activities' tab on the left-hand side of the screen. select 'Completed Activities'. If there are activities missing, click 'Add Activity' under the 'Activities' tab and complete the form for each activity you want to record.

You can also choose to 'Browse' activities and see if there's currently anything available you may be able to help with.
You can find information to help you with all of this in the Managing Your STEM Ambassador Account page of our website.
If you haven't already done so, you might like to Download the STEM Ambassador App to help you search for volunteering opportunities and keep your account up-to-date more easily?
Refresher Training & Online CPD
If you did your STEM Ambassador induction a while ago, you may like to run through the online induction training, which takes the form of a series of short videos. You can easily watch them over a brew and a biscuit!
Alternatively, we really recommend that STEM Ambassadors work through the 'Inspiring Young People in STEM' free online CPD courses.

There are 4 separate courses available:
Resources for Activities and Promoting Diversity
Planning and Organising Practical Activities
Communication Skills for STEM Ambassadors
Feedback Tools for STEM Ambassadors
Recruit a Friend
STEM Ambassador registrations have been affected by the Covid19 social-distancing restrictions, as we're unable to complete the DBS ID checks.
However, we're focusing our efforts on a recruitment drive, encouraging people to sign up, create their profile and complete their online induction.
Once the restrictions are lifted, we'll be able to sort out the DBS checks and, hopefully, have a fabulous new cohort of volunteers ready to get stuck in!
If you know of a friend or colleague who'd make a fabulous STEM Ambassador, or if there's a contact at your company who could really get things moving at your place of work, have a chat with them or put them in touch with us at [email protected]
STEM Club Support
All About STEM is one of 22 STEM Club Champions across England and will be hosting online remote training sessions for teachers on how to start and maintain STEM Clubs in their schools.
As part of this, we'd like to highlight the role STEM Ambassadors can play in supporting clubs. If you have previous experience of supporting a STEM Club, we'd love you to join one of the remote sessions to share your experiences as part of the discussion.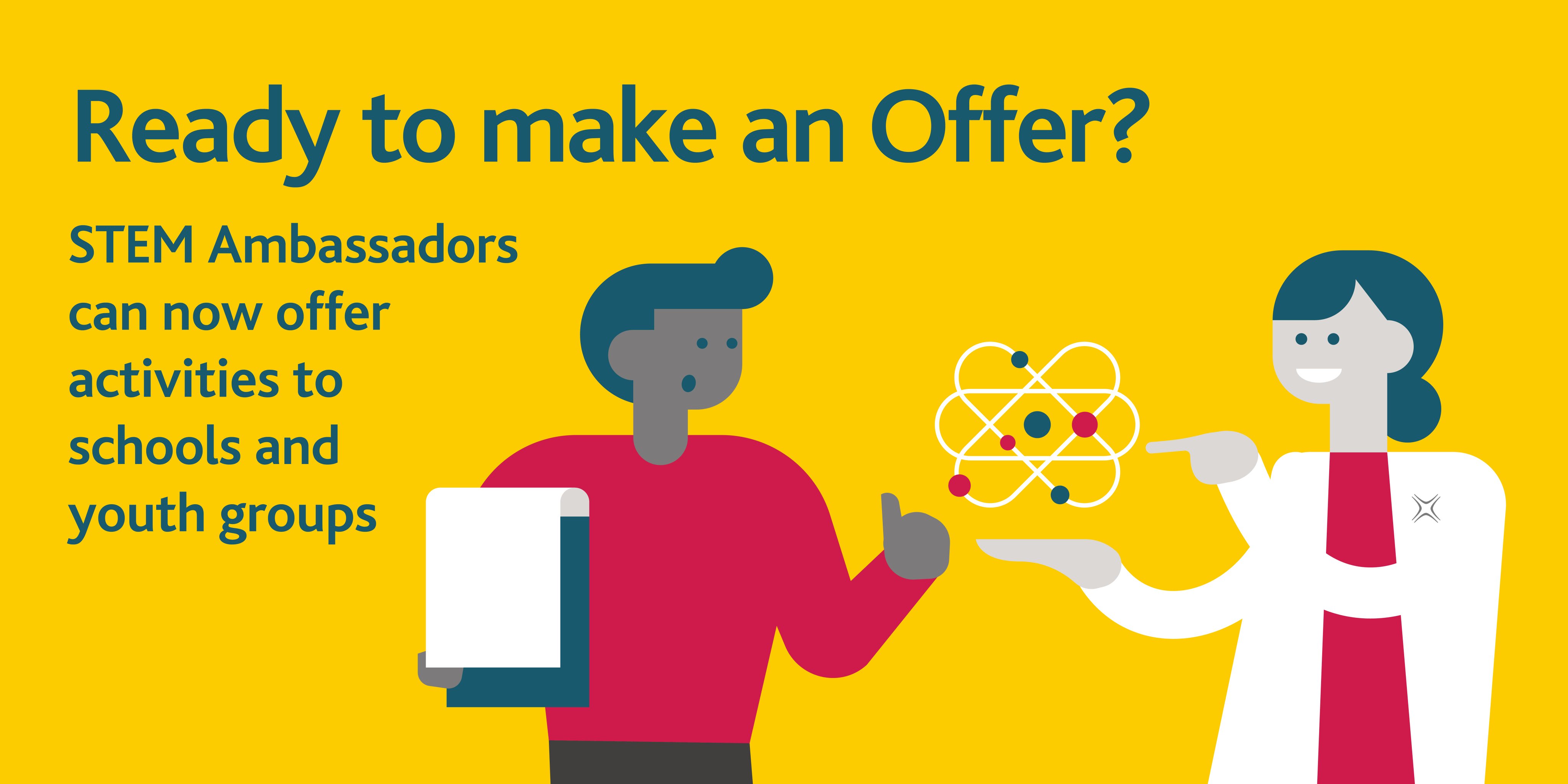 If you'd be interested in helping, or finding out more, log in to your STEM Ambassador account and then view the activity request to Express an Interest and we'll follow up with you.
Additionally, STEM Ambassadors are invited to join one of STEM Learning's 'Running a STEM Club Online' remote training sessions. The course is free to access and delivered through an online community group with a live, interactive webinar at the end. It will explore ways to engage young people at home, and in school, with STEM Clubs.
The session is repeated seven times between now and July so there's sure to be a convenient date for you to get involved.
Click to find out more or to book a place.

All About STEM works on lots of exciting STEM projects. As part of the STEM Learning family, we manage the STEM Ambassador Hub in Merseyside, Cheshire and Warrington, working closely with the regional Science Learning Partnerships in Merseyside and Warrington and Cheshire and Stockport. Follow STEM Ambassador Hub Merseyside & Cheshire on Twitter .
Follow All About STEM on Twitter here
Like All About STEM on Facebook
« Back To News