May 20th 2020
CREST Home Learning: Projects for all ages!
CREST is a great distance learning opportunity for families and schools with a flexible STEM project framework to inspire and engage 5 to 19 year olds.
During a CREST Award project, students take on the roles of scientists, researchers, engineers and designers to pursue their own ideas. No CREST project is identical.
Scroll down to take a look at the home learning projects and levels…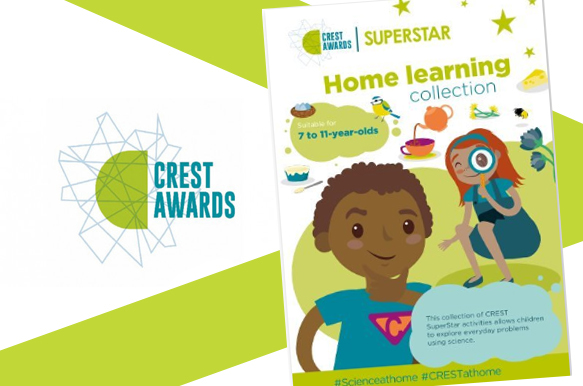 Home Learning Projects (Ages 5-7)
Be Seen Be Safe – Reflection & light
Brilliant Bubbles – Liquids, gases & bubbles
Confusing Cans – Weights, ramps & investigation
Music Maker – How sounds are made
Peggy Problem – Grip & strength
Slippery Slidey Shoes – Friction
Sniffly Sneezes – Absorbency of materials
Tea Bag Trouble – Materials

Typically completed by 5-7 year olds (Key Stage 1), CREST Star challenges relate to children's experiences. You don't need to be a teacher, have a science background or have access to specialist equipment to run Star activities.
Home Learning Projects (Ages 7-11)

A Sticky Problem – different properties of glue
Bridge Blunder – weights, forces & measures
Cheesy Challenge – how milk is changed to cheese
Crafty Rafts – making a raft that floats
Fantastic Fingerprints – collecting & examining fingerprints
Fossil Folly – thinking about fossils & dinosaurs
Get Set Jellies – testing different jelly recipes
Investigating Ink – identify different inks using chromatography
Racing Rockets – design and build a high-flying rocket
Super Spinners – helicopters and how to make a paper spinner
Yummy Yoghurt Makers – make yoghurt, reversible/irreversible reactions

Typically completed by 7-11 year olds (Key Stage 2), CREST SuperStar challenges relate to broader situations that children are likely to have come across. Like with CREST Star, you don't need to be a teacher, have a science background or have specialist equipment to run SuperStar activities.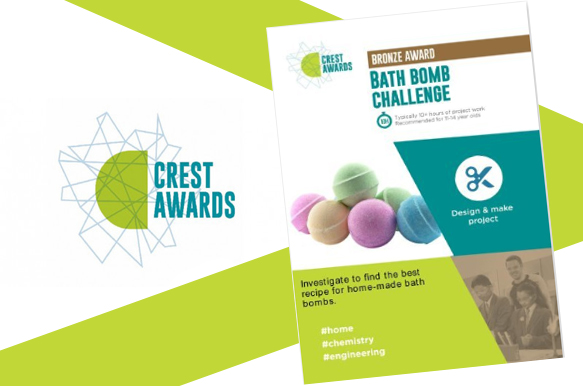 Home Learning Projects (Ages 11-14)

Bath Bomb Challenge
Make Your Own Fizzy Drink
What Makes Bread Rise?
Plant Growth & Nutrients

Typically completed by 11-14 year olds (Key Stage 3), students undertake a project of their choosing. They make decisions about how to progress, write about their findings and evaluate their project in their CREST profile form or workbook.
Home Learning Projects (Ages 13-16)

How Does Cooking Change Pasta?
Make Your Own T-Bag
The Ultimate Pizza Box
Climate Science Resource Pack

Typically completed by 13-16 year olds (Key Stage 4), students complete 30+ hours project work, which is assessed externally by a trained CREST assessor. At Silver level, students develop and lead the project, consider the broader impact of their work and demonstrate an innovative approach. Students upload evidence of their project, such as project reports, video diaries and/or presentations, and reflect on their work using a CREST student profile form.
More activities: CREST accredited partners
Live in the North West? Find out more about CREST Awards here…

Home & School Learning Resources & Activities:
All About STEM's Inspiration Station!
Science•Tech•Engineering•Art•Maths•Mind•Body
Follow All About STEM on Twitter here
Like All About STEM on Facebook
More: Home Learning Activities with CREST Awards and STEM Learning
« Back To News