May 21st 2020
STEM Ambassador Spotlight: Rachel Rawlings!
It's not just Team All About STEM who 'make it happen'.
Throughout the year our sensational STEM ambassadors visit schools and events for FREE to support learning, teach workshops and pass on their amazing insight and right now, they're offering school support online!
Meet Rachel Rawlings! Rachel is a phenomenal role model and a dedicated STEM ambassador. She strives to inspire future generations through her engaging activities and outreach.
Name: Rachel Rawlings
Location: Cheshire
Job Title: UK Accreditation Manager
Company Name: Bureau Veritas UK
Fun Fact:
I can Le Roc. That's french jive (similar to Rock n Roll).
What do you do day-to-day?
I started my career as an Environmental Technologist at the Llanwern Steelworks on the British Steel Graduate Engineering Programme. I then worked for Renishaw as a Quality Engineer. Around this time I achieved my Chartered Engineer status I then went to work for The Bristol Port Company as a Development Engineer, project managing multi-million pound projects. Following three years working for Demag where I worked on three massive crane contracts,, I moved to my current company, Bureau Veritas where I have worked as the Technical Skills Manager and the Accreditation Manager. A normal day now consists of talking to my team, attending meetings and answering emails. All of this is related to making sure that I maintain the ISO (International Organisation for Standards) standards so that the engineers can work and carry out inspections. I have to problem solve when things have gone wrong, reviewing how activities are done and how they can be improved.
What are the best & worst parts of your role?
The best bits are when we do well at a UKAS (United Kingdom Accreditation Service) audit and seeing the team happy in their work. The worst bit is when things go wrong and you have to find out why.
How do you dress for your role?
When in the office I wear smart work clothes.
When I am on-site I wear a company branded T-Shirt and jacket, steel toe capped boots, hard hat and hi-vis. Ear and eye protection may also be needed depending where I am.
What subjects did you study at school & what qualifications do you need for your role?
At A-Level I did Maths, Physics and Art. I enjoyed Maths & Physics. I considered Chemistry but it clashed with Art in the option blocks. I opted for Art as I felt it would be a good outlet.

At University I did Mechanical Engineering with Process Systems. I made this choice as I enjoyed making things. The course gave a broad experience of engineering which I felt would provide lots of flexibility & choice in terms of future careers.
For my role, I needed a degree and to be a chartered engineer.
What was your favourite subject in school?
I loved Maths and Physics.
What do you see yourself achieving professionally within the next 10 years?
I want to become a Fellow of the IMechE.
I also want to be a Board Director so that I can help lead a company to be successful and make the world a better place.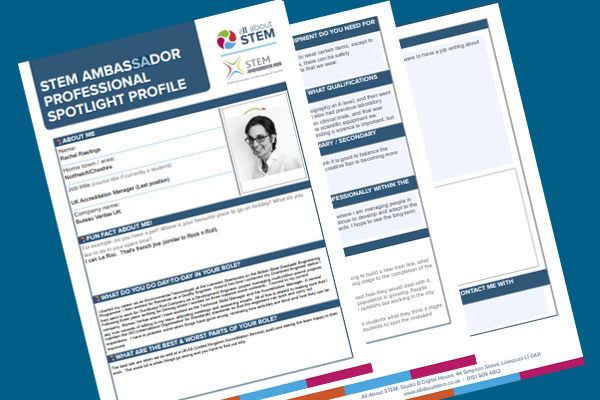 Home & School Inspiration! STEM Ambassador Spotlights:
If you're a teacher or parent, you can download our STEM Ambassador Spotlights and use them as an activity. Learners can discover more about STEM professionals/careers & every pack includes an ambassador challenge!

Click to download Rachel's Spotlight
More STEM Ambassador Spotlights
Could you be our next STEM Ambassador in the spotlight?
Get in touch!
Click here to find out more about becoming a STEM Ambassador.
Make a difference and help inspire the thinkers of the future…
Schools: You can request a remote ambassador activity for your learners here.

STEM Clubs Champions: STEM Club Resources
STEM Club Champions
STEM Sessions: Careers & STEM Ambassador Podcasts

All About STEM works on lots of exciting STEM projects. As part of the STEM Learning family, we manage the STEM Ambassador Hub in Merseyside, Cheshire and Warrington, working closely with the regional Science Learning Partnerships in Merseyside and Warrington and Cheshire and Stockport. Follow STEM Ambassador Hub Merseyside & Cheshire on Twitter .
Home & School Learning Resources & Activities:
All About STEM's Inspiration Station!
Science•Tech•Engineering•Art•Maths•Mind•Body
Follow All About STEM on Twitter here
Like All About STEM on Facebook
More: Home Learning Activities with CREST Awards and STEM Learning
« Back To News