May 07th 2020
CREST: Fun & Flexible Home Learning Activities! (Ages 5-11)
CREST Awards have created a brand new Home Learning Hub for families! All projects have colourful downloadable booklets and are completely flexible.
Every project is perfect for home use (with parental support) or can be set as a teacher facilitated distance learning activity.
We've brought together a list of all of the primary activities so you can see each theme at-a-glance…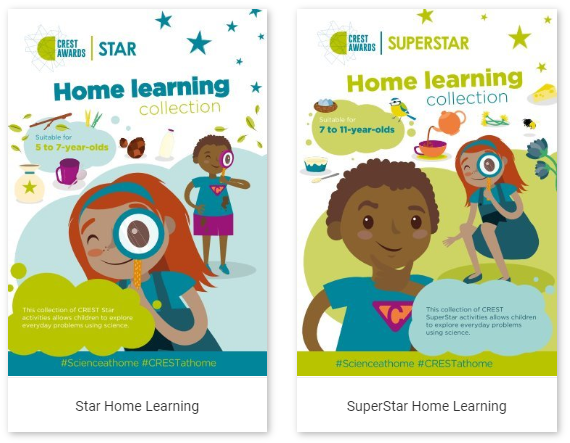 CREST Star Home Learning (5-7)
Be Seen Be Safe – Reflection & light
Brilliant Bubbles – Liquids, gases & bubbles
Confusing Cans – Weights, ramps & investigation
Music Maker – How sounds are made
Peggy Problem – Grip & strength
Slippery Slidey Shoes – Friction
Sniffly Sneezes – Absorbency of materials
Tea Bag Trouble – Materials
CREST Superstar Home Learning (7-11)
A Sticky Problem – different properties of glue
Bridge Blunder – weights, forces & measures
Cheesy Challenge – how milk is changed to cheese
Crafty Rafts – making a raft that floats
Fantastic Fingerprints – collecting & examining fingerprints
Fossil Folly – thinking about fossils & dinosaurs
Get Set Jellies – testing different jelly recipes
Investigating Ink – identify different inks using chromatography
Racing Rockets – design and build a high-flying rocket
Super Spinners – helicopters and how to make a paper spinner
Yummy Yoghurt Makers – make yoghurt, reversible/irreversible reactions
Click here to view CREST Home Learning projects
View CREST secondary projects here and discover more about the different CREST Award levels.
Schools: Visit the CREST website to discover all of the amazing projects available!
---
As North West Regional CREST Support Organisation, All About STEM promote CREST Awards across the region and point schools & clubs to the support they need to run this amazing scheme. CREST Awards encourage students to work like scientists, researchers, engineers and designers to investigate and explore their own project ideas.

Find out more
Follow CREST North West on Twitter

Home & School Learning Resources & Activities:
All About STEM's Inspiration Station!
Science•Tech•Engineering•Art•Maths•Mind•Body
Follow All About STEM on Twitter here
Like All About STEM on Facebook
More: Home Learning Activities with CREST Awards and STEM Learning
« Back To News