March 29th 2021
Webinar & Slideshow: Time For Change – Barriers to Access, The Apprentice Perspective
In March, Amazing Apprenticeships hosted a Time for Change workshop exploring the inadvertent barriers faced by diverse and disadvantaged young people who are looking to access apprenticeships.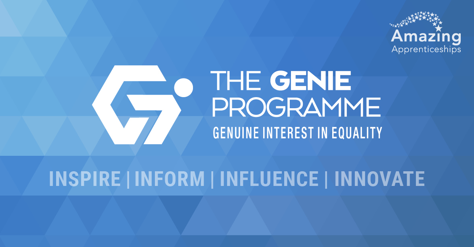 The team were joined by 2 brilliant apprentices, Haider Ali, Management Accounting Apprentice at Rolls Royce and Elle Melrose, Priority Service Lead at Bulb. They shared their first-hand experiences of these often preventable barriers and how employers could address them.
Click here to download the slideshow
Click here to watch the webinar
About Amazing Apprenticeships
Amazing Apprenticeships is a leading organisation in the education sector, founded to tackle misconceptions about apprenticeships and promote the benefits.
"As experts on apprenticeships and vocational education, we influence the way that apprenticeships are perceived and drive forward innovative and creative work in England and internationally, to ensure that more individuals and businesses can access the benefits of apprenticeships."
ASK About Apprenticeships: School & College Support

All About STEM has been delivering the (ASK) Apprenticeship Support and Knowledge for Schools and Colleges project since March 2017. The project is commissioned by the National Apprenticeship Service to ensure that all young people are fully informed about the brilliant opportunities that apprenticeships offer.
Follow All About STEM on Twitter here
Careers: Follow All About Futures on Twitter here
Like All About STEM on Facebook
« Back To News