June 15th 2021
CREST Discovery: St Laurence's Primary Design Machines of the Future!
On the 11th of June 2021, All About STEM visited St Laurence's Catholic Primary School to host an exciting and inspirational CREST Discovery Day!

During a Discovery Day, students (age 10-14) work collaboratively on a 5 hour STEM project or challenge whilst recording and reflecting on their work via a CREST Discovery passport.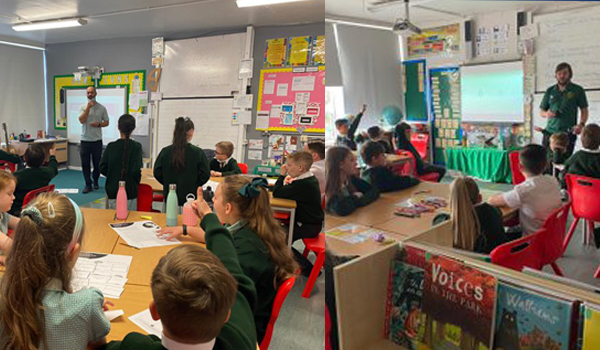 Two Year 5 and two Year 6 classes took part and during three workshops, St Laurences talked about technological change, explored machine learning tools and discovered how artificial intelligence (AI) and smart appliances work. Then, using their acquired knowledge, they split into teams and designed their own real-world machines of the future!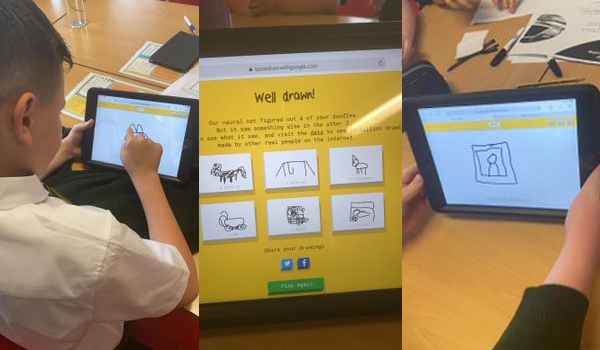 Can the app recognise you're drawing and how?
As part of their investigations, students put AI apps such as Quickdraw, Soundscape & GiorgioCam to the test.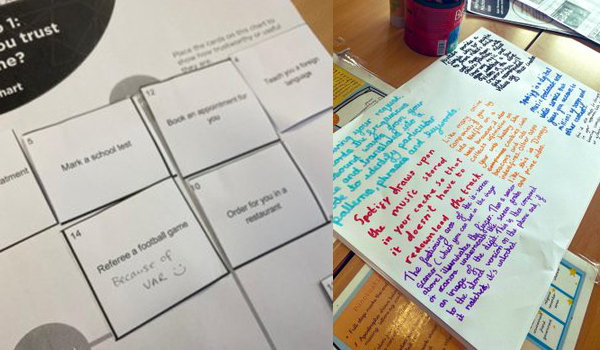 Pupils discovered the stages of product creation and worked their way through research, development, design and marketing before presenting their machines like professionals to their class.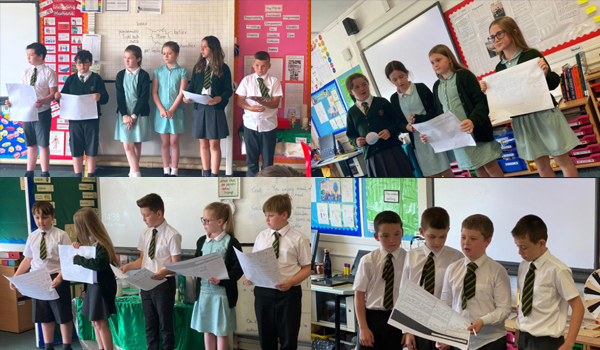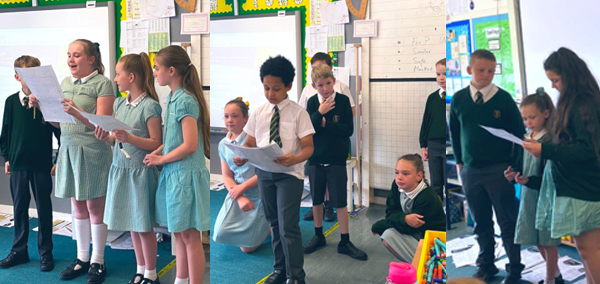 Their concepts were outstanding and they had inspiring and ingenious ideas!
A Covid sensing robot that learns heat patterns with a built-in doctor app
A 'Clever Closet' providing recommended outfits based on your emotions & the weather
A drone service that learns & is quicker & better than Amazon
Miss Carroll, Headteacher, St Laurence's Catholic Primary School said, "The children and staff have thoroughly enjoyed their Discovery Day today. All of them have commented on how interesting it has been. They have developed their thinking and analytical skills as well as their communication and team working skills and have worked to produce some interesting machines for the future. One thing that particularly struck me was how involved and invested in their products each group was. 
I would thoroughly recommend being involved with this project again as the children have learnt so many new skills. Thank you for an enjoyable day. "
Michelle Dow, Managing Director, All About STEM said, "It's been emotional. We are beyond overjoyed to be back in schools to inspire the next STEM generation in person. The smiles on the children's faces, that spark of excitement, the joy of discovery, amazing inquisitive youngsters that we can nurture and encourage to develop their own independent and innovative ideas… this is the focus of our work and the reason we do what we do. I'm not crying honestly!
It has been a phenomenal day here at St Laurence's and the children and staff have enthused me as much as our activities have enthused them. Well done St Laurence's, you were all STEM superheroes!"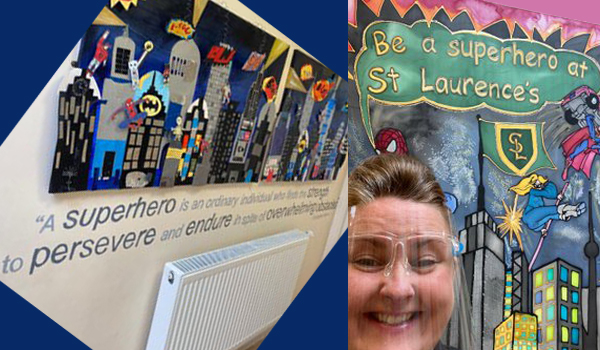 Children's feedback:
Alex – "It was amazing, we created our own products and ideas and learnt about how computers teach themselves."
Kayden – "It was exciting and I had fun all day."
Joe – "It was a really creative day and I loved designing our own ideas."
Louie – "It was really interesting and I learnt lots of new things."
Mr Biggs, Science Lead and Year 5 teacher said, "The Discovery Day, Machines of the Future, was excellent! It gave children an insight into how much computers impact on our lives and how quickly they can process data and learn from it. The resources were fantastic and linked to real world examples such as: Netflix, Alexa and Siri to put the children's learning into context. In addition to this, the children loved testing out the apps Google Quick draw and Giorgio Cam to see how they teach themselves.
It was great to see the children then apply this knowledge and have fun working in groups to create their own machines of the future and present them back to the class. The whole process was brilliant and the support from Michelle at All About STEM was fantastic from CPD before running the event to coming into school to support our sessions. I can't wait to do our next one!"
Relive the day in pictures
CREST Discovery Awards
CREST North West: All About STEM – Contact Us
CREST Awards

As North West Regional CREST Support Organisation, All About STEM promote CREST Awards across the region and point schools & clubs to the support they need to run this amazing scheme. CREST Awards encourage students to work like scientists, researchers, engineers and designers to investigate and explore their own project ideas.
Home & School Learning Resources & Activities:
All About STEM's Inspiration Station!
Science•Tech•Engineering•Art•Maths•Mind•Body
Follow All About STEM on Twitter here
Like All About STEM on Facebook
« Back To News